All New NON OEM Elements from Ztechnique for Atlas Copco Z compressors
Ztechnique and Air Hire can provide your business with an all new (no donor parts) service stage for your Atlas Copco oil free ZA ZT ZE ZR air compressor with fantastic performance and quality from a long established company (1987 formation)

Together with our technical expertise , fitting service and Z and MD training you have all the tools to take control of your compressors and dryers and drive down the cost of oil free maintenance whilst having the reassurance of warranty from 1 to 5 years duration.

With over 300 + element sales each year we have all of the skills you need to be your alternative service provider and reduce your reliance on the OEM and save on average 35% to 40% less on compressor maintenance.

With a wide range of complimentary consumable spare parts and metallic parts you have almost 95% of your equipment maintenance parts from one supplier Air Hire and service rates that are far less than OEM rates.

Our parts and service is provided around the World by our direct team and our Distributors...

With company's facing costs cutting and compressed air being a large part of your running costs , choosing Air Hire and Ztechnique could be the best decision you make in 2018

Many blue chip company's have chosen Air Hire for service and we can provide excellent references in several country's to back up our claims on request from our sales department email us for more information click here Click here now email
Ztechnique Oil Free FREE training videos now avaioable 2018


Full oil free Ztechnique training on how to install refurbished and new elements from our company with Z training schools every year. Training dates for 2019 on request from
Ztechnique New Elements Presentation Video
Ztechnique NON OEM Elements for Atlas Copco 'Z' compressors from Mark Whalley on Vimeo.
Great Products Begin with Great Design
Before you can create a great product you need a great design and our Ztechnique design team have been hard at work producing our range of Ztechnique replacement air ends for Atlas Copco Z compressors..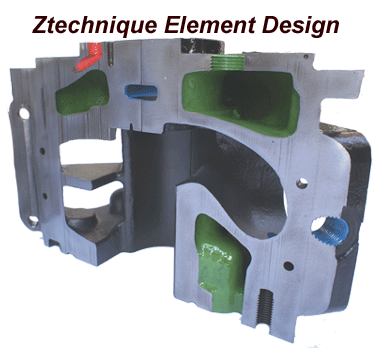 Take a look at our casting design
Take a peek inside the stage 1 design showing the compression chamber, oil seal and bearing locations, port to atmosphere, water channels and oil feeds.

We use this type of casting for training and customer visits to show the quality of our castings etc .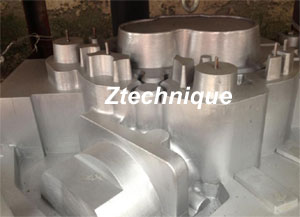 Moulds are made for the Ztechnique castings
Using the latest techniques our moulds are made ffrom our own design.
New Castings are used in our Ztechnique air end products
The Importance of NO donor parts is paramount to the quality and one way shipping to far of customers around the World.

No need to return your old broken element with NEW Ztechnique brand products and NO Non Return Charges levied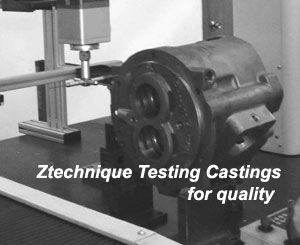 Quality Testing of all our Ztechnique parts
New Ztechnique element castings are tested before and after CNC machining for quality. Several castings from our production line are cut apart to check for the correct casting process being maintained.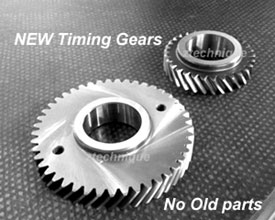 New Timing Gears used in all our elements
The Importance of the timing gears being new cannot be ignored..

The precise clearance between the coated rotors is maintained by the timing gears and after long periods of running 80,000 hours or more the gears are 'run in' and must be replaced. Our NEW Ztechnique elements have NEW gear sets from the onset made from high grade materials and quality checked for precision in use
Ztechnique Rotor Cutting
Rotor billets are aligned from high grade steel ready for machining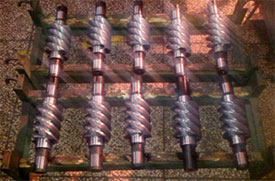 Rotor Cutting takes place
Using our own profile the cutting machine works hard to make the male and female rotor sets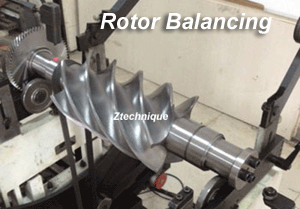 Balancing Rotors
its essential after machining and our rotor coating is applied that the the rotors are checked for balance and adjusted as required for a the lowest possible vibration in use.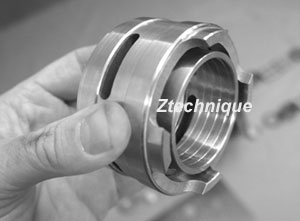 Seals and Bearings
Our seal assembly's are carefully selected for quality for containing the oil completely away from the compression chamber and ensuring 100% oil free air is produced. The sealing methods are very reliable combined with our journal coating procedures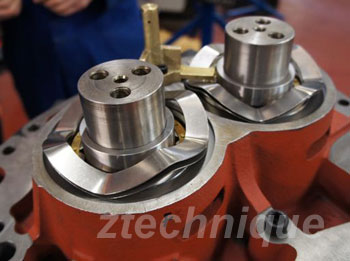 Wave Springs and Assembly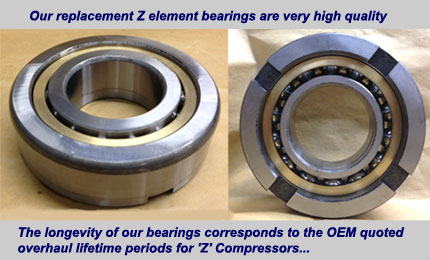 4 Point Bearings are used in our NEW Ztechnique Elements
High Quality European manufactured bearings are used in the assembly of our Ztechnique elements with the cut out sections providing assess for bearing and gear lubrication.

the high speeds at which the rotors turn requires a high grade bearing to cope with the stresses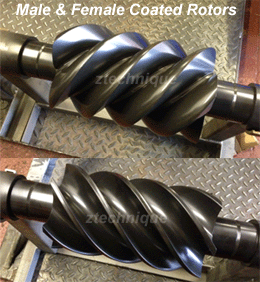 Rotor Coating Procedures
Applying the rotor coating is a multi step process with each step applied in a controlled spraying method baked at differing temperatures cycles to ensure correct bonding.
The purpose of the coating is two fold, minimising rotor clearances and protection from moist atmospheres and corrosion of the rotors etc . Ztechnique uses several coatings dependant on the application.

We have ensured over thousands of hours run that our coating offers maximum protection..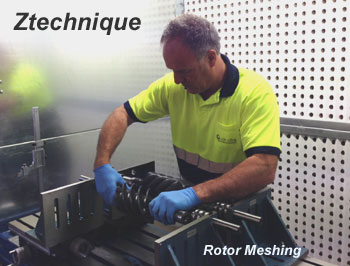 Rotor clearance checks are carried out
Before and after rotor coating we check the clearances of our male and female rotors.

Correct meshing of the rotors and tolerance checks is essential for the correct performance of the elements Ztechnique produce.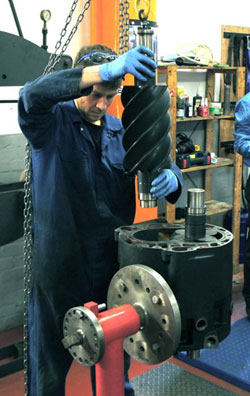 Ztechnique Element Assembly begins
At every stage we check alignments and ensure tolerances are met for all aspects of the Ztechnique elements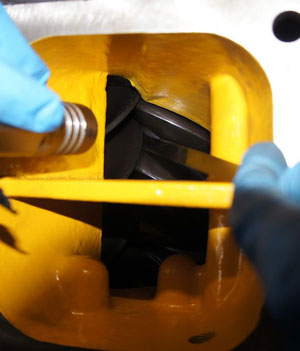 Rotor Meshing & Coating the screws
Here you can see the specially coated male and female rotors meshing inside the casting after assembly. our coating has been applied to the rotors and we carefully ensure that no contact is made between the rotors with NEW cut timing gears.

Nothing is re used on the Ztechnique elements we produce they are all NEW and at great prices compared to OEM RRP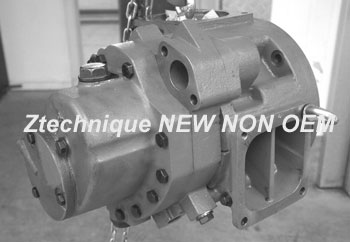 Checking the element assembly Ztechnique
We dry assemble the element first to check all mating surfaces are perfect before bearings and seals are installed in the castings and on our rotors..

Each Ztechnique element has to fulfil a list of assembly checks before it can be transferred from our assembly centre to the TEST Centre where the element is run for 2 hours to ensure that a high quality product reaches the customer..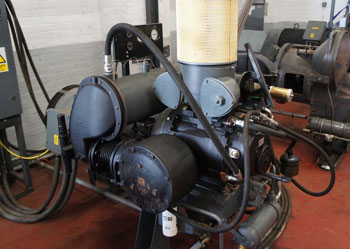 Element Test Centre
Our new test centre ensures each air end is tested for output &pressure targets whist being tested for vibration SPM and seals performance. At this stage any flaw in assembly will show itself to our test engineer and will result in rejection unless the Ztechnique element meets our targets for performance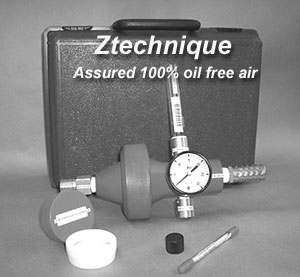 100% Oil Free Air Testing
We are able to test your air quality post Z compressor overhaul with a Quality Air test to British Standards.

ISO 8573 Air Testing
The ISO 8573 standard consists of purity classes for contaminants in compressed air: particles, water, and oil. In addition, ISO 8573-1:2010 also identifies microbiological contaminants. The ISO 8573 purity classes can be used to describe the quality of a compressed air system or to specify the required quality for a precise application. Compressed air specifications should meet product performance requirements.

To be sure your air is 100% oil free from our Ztechnique Elements this additional service is available...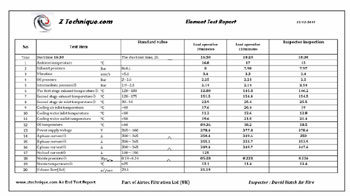 Test Certificate Ztechnique Elements
After testing the element gets a full identity test cert provided showing the data recorded and your test engineers signature. For warranty purposes you must keep this certificate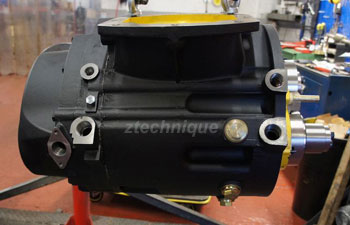 Packaging and Protection in Transport
After testing each element is rust protected and tape applied to ensure no contamination or entry of foreign objects can take place before the element reaches its destination address

Each air end is stamped with a unique serial number for ztechnique warranty
Each Element is delivered with a USB stick loaded with your elements data
With Each Air End supplied you get a Ztechnique Branded USB stick with your elements documents and Instructions on both video and PDF of the correct pinion fitting Instructions

We also Include a ZR ZT ZE ZA commissioning sheets so as you can send the relevant data on the re commissioned compressor back to Air Hire data centre for future warranty purposes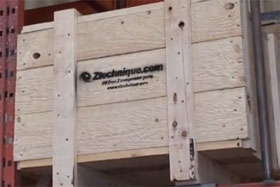 High Quality Branded Packaging
High Quality crates are used to ensure no transit damage can occur and each element is accompanied with its TEST Certificate and pinion install Instructions

Our crates can be re-used once for any warranty returns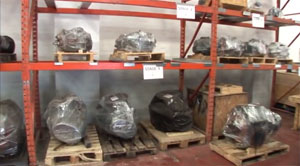 Stock Holding Ztechnique Elements
Our large stockholding of refurbished and new ztechnique elements ensures that when you need your Z service stage quickly Air Hire can deliver..

We ship right around the World to more than 34 country's in 2013 and with our targets for export increasing we hope to sell our elements to even more customers in 2014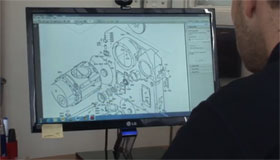 Technical Suppot from Air Hire
Peace of mind is very important when you change service providers.

Our International service team are available around the clock for Technical support both on telephone , Skype and email when required.

Call us on 00 44 1744 733211 during UK working hours to discuss your technical support question click to email us now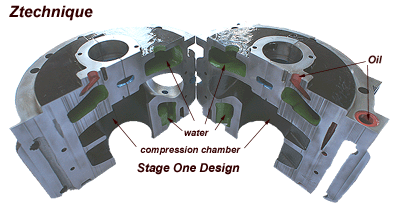 Ztechnique Training Courses
We run bi annual distributor Ztechnique training courses in the UK to assit distributors to sell our products..