Air Hire Service and Ztechnique spare parts can drastically reduce your maintenance costs of your Atlas Copco ZH Turbo compressed air equipment.

We can provide service engineers fully equipped to carry out 4000 8000 24000 and 48,000 hour tasks that includes full overhauls.

With around 90% of the spare parts and metallic available NON-OEM you can be assured that we will work hard to drive down the cost of oil free air for your business.

With many Worldwide Ztechnique Distributors available we often have a local agent able to carry out an initial inspection of your equipment before service or overhaul.

If you would like to find out more about our products and services, you can email us or call us on 00 44 1744 733211 UK Number


Introducing the Patriot Alternative Controller for Turbo Compressors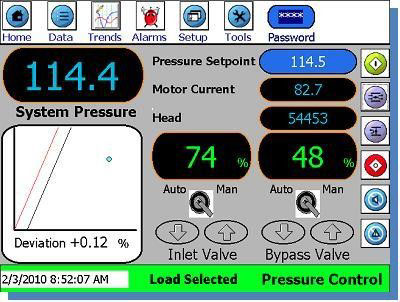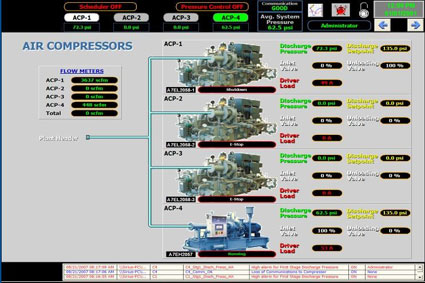 Patriot Controller can replace MK4 Elektronikon
The Patriot Controller is a plug and play version that will work in place on almost any standard controller such as the Elektronikon, CMC, MP3, Quad 2000, and most any modern controller. It will handle any centrifugal compressor as well as Atlas Copco oil free screw compressors.

Deviation from Surge Point, developed by and exclusively found on the Ztechnique Compressor Patriot Controller, will provide the most efficient operation of a centrifugal compressor in the constant pressure (throttle) mode.

Dual valve operating feature to ensure the most constant pressure even during widely fluctuating compressed air loads in the system.

Surge Recognition feature will open the inlet valve, open the bypass valve approximately fifty (50) percent to allow the compressor to remain in the system and then resume normal operation when the event that caused the surge is eliminated.

Surge recognition feature will open the inlet valve, open the bypass valve approximately 50% to allow the compressor to remain in the system and then resume normal operation when the event that caused the surge is eliminated

Allen - Bradley Compact nonproprietary PLC
Allen Bradley Panelview 10" Color touch screen interface for easy operation and viewing is standard
All of the alarms, dated and timed stamped, will be logged on the Patriot Controller, accessible through the HMI to allow for simple troubleshooting and easy maintenance.

Typical 3-5% Power Savings can be achieved

Centac®, Ingersoll Rand®, Joy®, Cameron®, Atlas-Copco®, Clark-Isopac®, Worthington®, Elektronikon® and their affiliates are registered trademarks. Their use herein does not constitute any endorsements.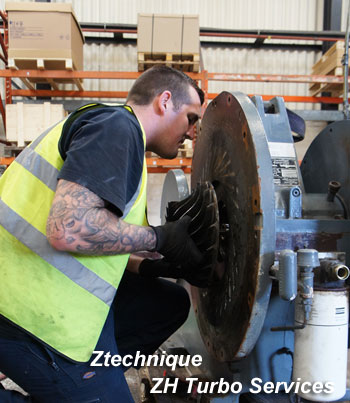 Service and Repair of Atlas Copco ZH Turbo Compressors
From April 2015 we have added the service and repair capability for ZH Atlas Copco Turbo compressors.

We have added a range of NON OEM spare parts that includes

Service Kits
Coolers
Impeller Balancing
Diagnostic testing

For more information contact our service department 00 44 1744 733211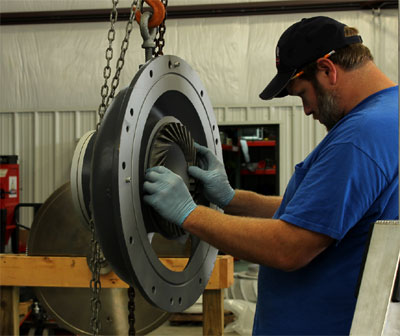 ZH Overhaul Images Diffuser Install
Here you can see the diffuser being installed on a ZH9000 compressor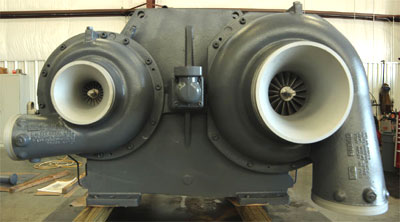 ZH9000 Ready for shipping back to the customer
Here you can see all the tasks completed and ready to ship back to the customer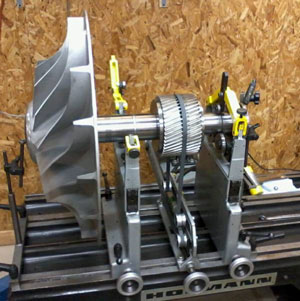 Balancing Service available
Check out our impeller balance service (image right)

Our Capability

Ztechnique offers unsurpassed quality new and remanufactured Centrifugal Compressor Parts with a full one-year warranty.

> Actuators and Positioners
> Bearings
> Bentley Nevada Equipment
> Complete Overhaul Kits
> Condensate Traps
> Controls
> Coolers - Air/Oil
> Couplings
> Demisters
> Diffusers
> Diffuser Covers and Plates
> Filters
> Gaskets - O' Rings - Kits
> Inlet Guide Vane Valves (IGVs)
> Lubricants
> MP3 Boards/CMC Boards
> Oil Pumps
> Probes and Cables
> Remanufactured Compressors/Air Ends
> Rotor Assemblies - Impellers, Pinions
> Seals
> Valves - Check, Bypass, Inlet and more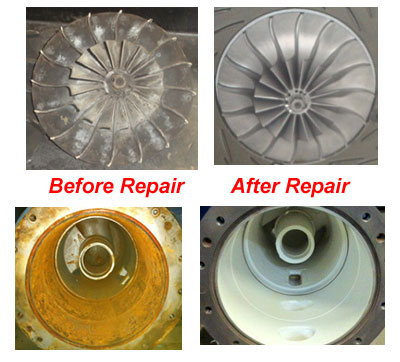 Take a look at what can be done with your worn parts
With our expertise we can assure you that thse parts can be used once again with confidence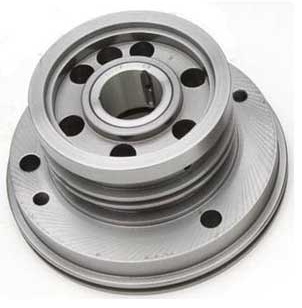 Seals and Bearings from Ztechnique
Labyrinth Oil and Air Seals are used extensively in Joy, Elliot, and Clark compressors.

Drawings and Pre-Machined stock on hand for fast turnaround of Non-Stocked Items.

Experienced Reverse Engineering Team is Available for Seals not yet in our System.

Please inquire for other brands of seals and bearings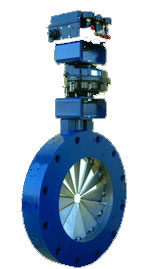 Use our Inlet Guide Vane Valves to Save on Energy Costs.
Designed, built, and improved

-Over 15 Yrs of proven performance and reliability.
-Its Rugged.
-Vanes synchronized by internal bevel gears.
(Not wires, or linkages)
-Stainless Steel Vanes.
-Critical Components are Lubricated and Contained Internally.
-Can be Fitted with a Variety of 90 degree Actuators.
-Electric or Pneumatic Positioners.
-Fits ANSI standard flanges.
-Thin design, Improves Efficiency, Less Modification to Install.

Made in sizes to fit 6",8", 10", 12",14", 16" and 20" flanges.
And two sizes for popular Joy C8 compressors.

Either clockwise or anti clockwise available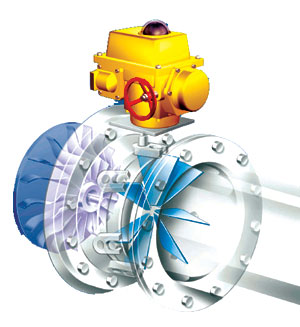 Technical Assitance on tap from Ztechnique
If you require technical assistance or simply want to plan your next service you can contact Ztechnique for a quotation.

Please provide

Model
Year of Manufacture
Hours Run
Serial Number
State the current condition if known

Let us do the rest

Call 00 44 1744 733211 or email us now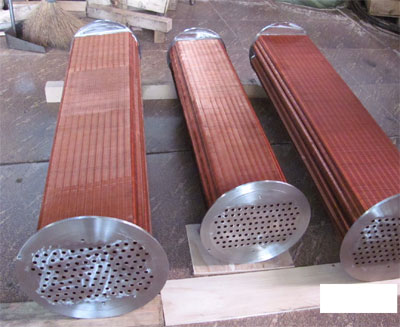 ZH Coolers from Ztechnique (NON OEM)
Save your business money without compromise on quality with our ZH coolers from Ztechnique brand.

With a comparable warranty to the OEM and huge savings to be made can you choose to ignore the options available any longer

email us with your compressor details for a rapid quote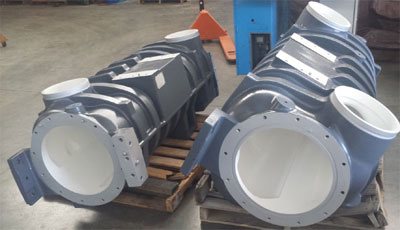 ZH Cooler Casing Overhaul
Here you can see the ZH cooler casings have been fully refurbsihed and re coated for protection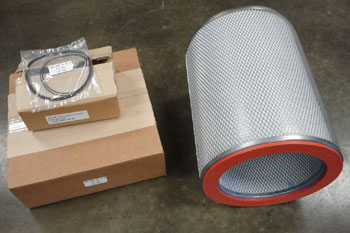 ZH Service Kits are available from our company
We have the full range of annual service kits available for the Atlas Copco ZH Turbo air compressor available.

Please forward your inquiry and model of ZH Turbo compressor to our company and let us do the rest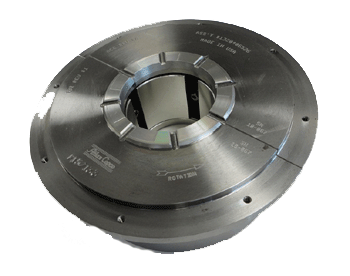 Refurbished or replacement bearings
We can often repair your compressors bearings with a full refurbish or replace with a NON OEM alternative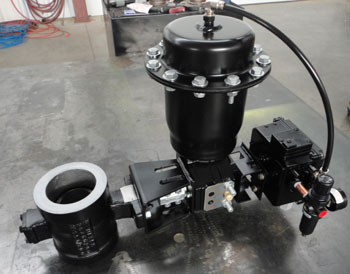 Replacement Actuators available
NON OEM New and Refurbished Actuator assemblies for Atlas Copco ZH Turbo Compressors

Pleaase send your part number or machine details and we will endevour to provide you with a quotation for new or refurbished actuators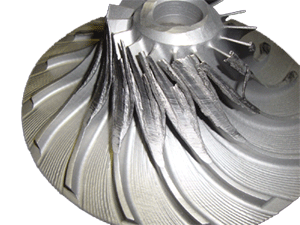 Repair or replace Impellers
Our company has a repair or replace service for Impellers. Please forward images of your damaged impeller for intial inspection and quotation.

TA Cooper Complete overhauls
We can also provide spare parts and overhauls for Cooper Turbo compressors on request. Please forward your request to our company and we can quote you accordingly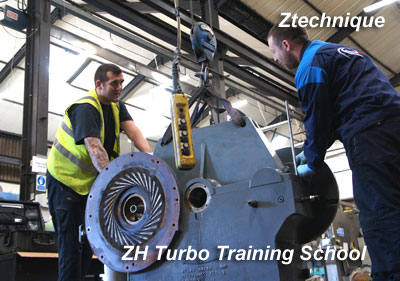 ZH Overhaul Images
Here you can see a ZH1000 -3 being overhauled in our Air Hire workshops in the UK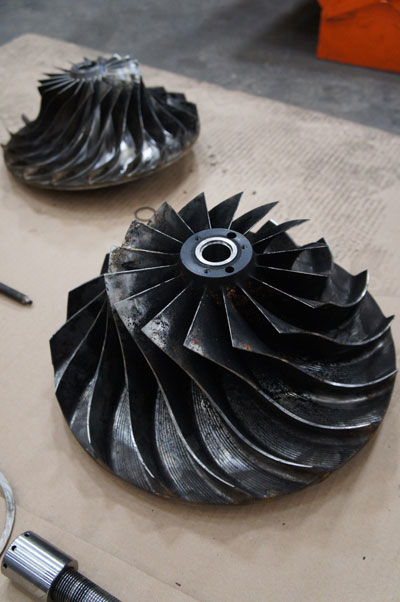 Rotating Assembly before overhaul takes place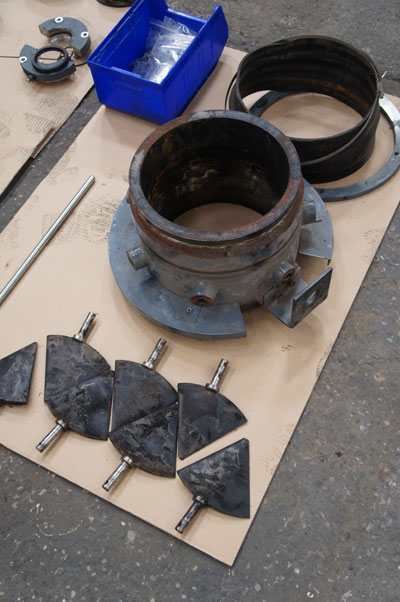 ZH Inlet Guide vanes stripped ready for overhaul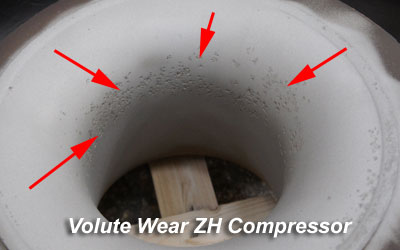 ZH Compressor wear found at 27,000 hours
In this image you can see where the Volute has become pitted.

The OEM would normally replace the whole casting. Using our Ztechnique services we can re sleeve the volute with a stainless steel insert at a fraction of the cost of replacement.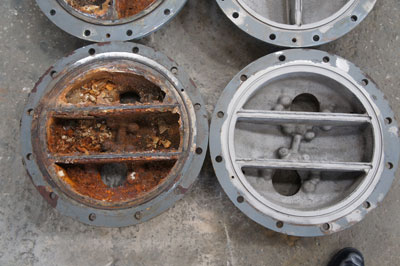 Cooller Cap wear seen here
We can repair the old cooler caps to bring them back into service. The OEM scrap these parts at this stage..

Using our ztechnique machine shop services we can restore the caps to be used once again.