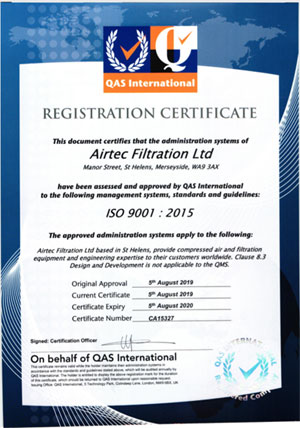 Airtec Filtration Ltd gains ISO9001 2015 August 2015
We are proud to announce we have formalised our ISO9001:2015 accreditation. We have always worked towards these standards, but we took the decision this year to formalise our accreditation to ISO9001:2015 to re-affirm our commitment to our customers in offering the highest level of service possible.

We trust this news confirms to you our intentions to constantly improve and to grow alongside our customers to provide the ongoing products and services you require to maximise your own potential in the Compressed Air Market. For more information on all our products and services visit www.ztechnique.co.uk or call us on +44 1744 733211


Ztechnique Training videos are expanding in 2018-19


Oil free training from the Worlds largest independant supplier of NON OEM Atlas Copco oil free compressor spare parts Ztechnique
Stage 6 Pinion Fitting Training video Ztechnique


New Stage 6 Pinion fitting training video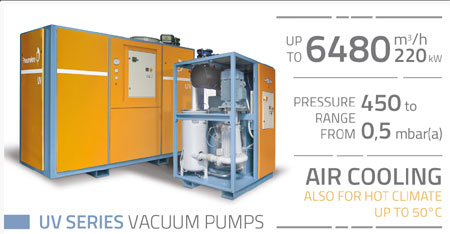 NEWS June 18 Airtec Filtration becomes Pneumofore Distributor England and Wales
We are pleased to announce that Airtec Filtration Ltd have been appointed England and Wales Pneumofore distributors...

Pneumofore is a leading supplier of centralized vacuum and air systems for industrial applications worldwide. The company manufactures machines based on rotary vane technology to guarantee long lasting operation, high performance and the lowest Life Cycle Cost on the market.

"One of our first maintenance actions is at Ball Wakefield on 3 x UV50 VS90 units. The UV50 units where installed in 2017 after Pneumofore direct sales team beat of competition from other leading manufacturers. Currently the units have been operating faultlessly for 5000 hours + and are now due the first service." MCW BDM.

Does your business use vacuum ?

If your interested in learning more about how Airtec Filtration can help you please call 00 44 (0) 1744 733211

Ball Wakefield case study link : Ball Case Study Can industry click here Considerable energy savings achieved.

Airtec Filtration Ltd www.airtecfiltration.com
Ztechnique Innovations re useable gaskets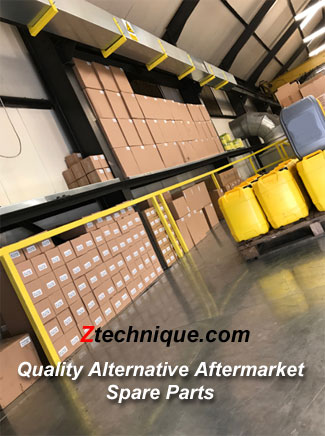 Ztechnique Spare Parts Stores Expansion 2018
In preparation for our new online ordering web site to be launched in January 2019 we have extended our stores area with 3 new Mezzanine floor extension to our head office facility in St Helens Merseyside.

The addition of fast-moving filters from MANN and our new Separator range has necessitated the need for additional stock space.

With lubricants quickly becoming a best seller we intend increasing our stock levels each month to cope with the increased demand on this product.

Mark Whalley BDM commented. " We have seen a marked increase in these products since the demise of CAPS UK and have picked up the ball to be able to deliver a quality product to new customers that have come on stream in 2018. With the imminent launch of our new web site and stores extensions in 2019 we will be ready to handle an influx of new inquiry's whilst avoiding length lead times for our customers new and old"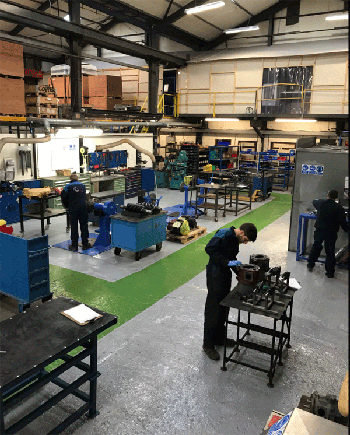 Ztechnique 2018 New Workshop developments
Ztechnique have recently improved our UK production facility with expansion into our new purpose built St Helens based workshops.

The new workshop developments will enable us to increase our production capability with the addition of two shift option in place.

"Our production has been steadily increasing in 2017 to the point where safety at work was becoming an issue with so many staff working under pressure in a small workshop. The new larger workshop has vastly improved the flow of the production. The addition of our second rotor cutter and 3D printing facility will enable our manufacturing systems to be even more streamlined than previously" said Mark Whalley BDM

With a great start to 2018 we expect our Ztechnique element orders to increase with the inclusion of several new Worldwide distributors.

Can we help you offer alternative oil free compressor and dryer products for GHH and Atlas Copco oil free compressors? Contact us 00 44 01744 733211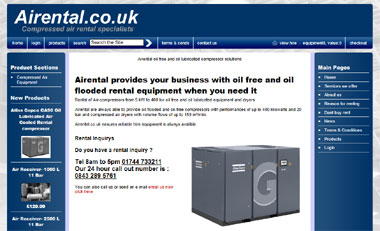 NEW dedicated air rental web site

Airtec Filtration Ltd are England and Wales FS Elliott Distributors 2017
Airtec Filtration Ltd Air Hire division are appointed FS Elliott distributors for England & Wales.

"We see this as a great opportunity to offer the UK market a well proven energy efficient centrifugal compressor design. (Polaris Range)

Our recent association with FS Elliott USA becoming one of our major USA Ztechnique distributors has begun to bear fruit for both FS Elliott and the Airtec Filtration Ltd business." Mark Whalley BDD

We are looking forward to a long and prosperous business relationship for the future with FS Elliott.

If you require information of the Polaris range of products you can contact Mark Whalley Business Development Director on 00 44 (0) 1744 733211 or email click here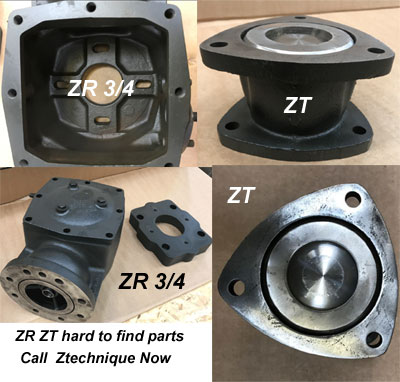 Finding it hard to locate ZA ZR ZT older oil free Atlas Copco parts
Many of the Worlds users of older Atlas Copco oil free ZA ZR ZT machines are seeking refurbished parts.

We have a UK warehouse full of used parts that can be refurbished with everything from complete Z gearboxes, Cooler cores, Cooler shells, Unloader head, oil pumps, etc all at fantastic prices with warranty (some parts have a 12 month warranty)

If your finding it hard to obtain these genuine parts from the OEM for example ZR3 ZR4 ZR5 ZR6 ZT255 ZT275 and MD 3,4,5,6 then please call us or click here to email now and let's see if we can save you time and money getting your Atlas Copco equipment running again for less .

You can call our sales office on 00 44 1744 733211 we ship anywhere in the World and have a large number of country distributors that can assist you.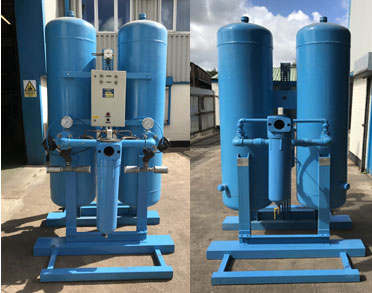 Latest Additions to our hire fleet
The latest additions to our growing hire fleet are these refurbished Desiccant air dryers.

with a capability of -40 dewpoint these are the ideal solution if your experiencing an unexpected maintenance opportunity (sounds better than a breakdown)

Please inquire through our hire desk 00 44 1744 733211 or email us at click to mail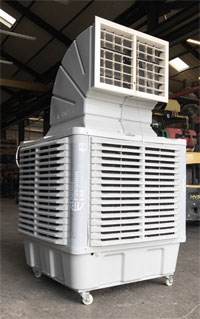 Spot Coolers for Hire or sale Evaporative Cooling !!
We have added these excellent spot coolers for factory or office cooling.

Using only water and a fan for cooling the effective cooling range is 15 metres from the outlet.

The device can sweep left to right automatically

12 Months warranty
Hire rates available on request

Tel 00 44 17444 733211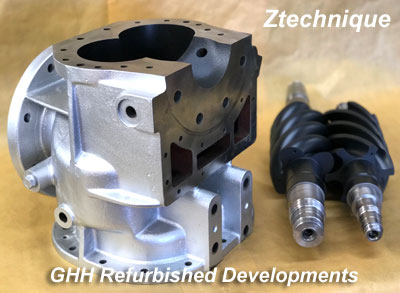 GHH Element Repair / Renewal Project 2017
We are proud to announce our plans to offer alternative GHH NON-OEM elements to our customers is progressing well.

With all sizes of the GHH elements currently being worked on in our dedicated air end facility we have made considerable progress to be able to launch this product in 2017.

Our well proven Ztechnique coating will be used in the rebuild process.

" This is a product that we have envisaged bringing to the market for several years. Together with our range of alternative NON-OEM Atlas Copco Z elements will only make us a stronger competitor in the oil free market." Mark Whalley BDM.

Do you want to find out more about Ztechnique developments or maybe pay us a visit in the UK.

We are actively seeking new Distributors around the World. click here to email or call 00 44 (0)1744 733211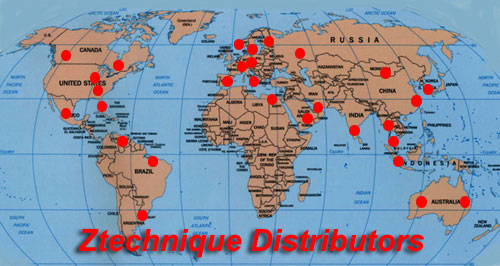 Ztechnique Worldwide Distributor Growth 206-17
2017 is starting with a bang for Ztechnique with several new Distributors of our products signing up for parts and support in these locations
Denmark

South Korea
Slovakia
Florida USA
Plus, other Distributors emerging
Saudi Arabia
UAE

Our strong growth is linked to a great set of NON Original Atlas Copco alternative products specifically aimed at the Z and MD equipment range.

Mark Whalley BDM

"2016 was a great year for adding additional Ztechnique Distributors but 2017 promises to be even better. The word is out that end user and distributor alike can make great savings without sacrifice on quality to enable your Atlas Copco oil free equipment to be operated more cost effectively with alternative products such as our ztechnique oil free air ends, new and refurbished and coolers, service kits, just about everything you need to keep your plant up and running at the lowest prices."

Check the map out we most likely have a Ztechnique Distributor in your region already.

You can contact us by email click here or land line 00 44 (0) 1744 733211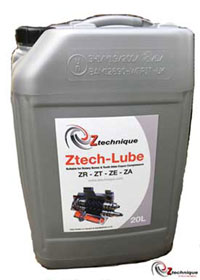 NEWS Ztech Lubricant for Atlas Copco Z compressors is now available
Ztechnique are about to launch our own Ztech Lubricant for use as an alternative oil on Atlas Copco ZA ZR ZE ZT ZR models of air compressors with ZH lubricants to follow soon.

With a life of 8000 hours for up to 90 Kw units and up to 16,000 hours on above 90 Kw units we expect that we will attract customers that need a high quality lubricant but at lower prices than the OEM.

FREE OIL SAMPLE KIT

To further encourage use of our oils we will be promoting our oil with a FREE oil sample kit for lubricant orders of 80 Litres. So you can be guaranteed that at the 12 month onward point you can have an independent oil sample test carried out. (voucher provided with 80L orders)

For prices and availability please contact our sales department on email us now click here or call +44 1744 733211 Now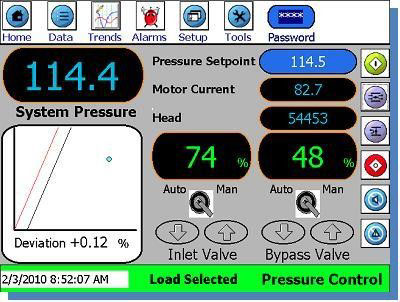 Introducing the Patriot Alternative Turbo Compresssor Controller
The Patriot Controller is a plug and play version that will work in place on almost any standard controller such as the Elektronikon, CMC, MP3, Quad 2000, and most any modern controller. It will handle any centrifugal compressor as well as Atlas Copco oil free screw compressors.

Deviation from Surge Point, developed by and exclusively found on the Ztechnique Compressor Patriot Controller, will provide the most efficient operation of a centrifugal compressor in the constant pressure (throttle) mode.

Dual valve operating feature to ensure the most constant pressure even during widely fluctuating compressed air loads in the system.

Surge Recognition feature will open the inlet valve, open the bypass valve approximately fifty (50) percent to allow the compressor to remain in the system and then resume normal operation when the event that caused the surge is eliminated.

Surge recognition feature will open the inlet valve, open the bypass valve approximately 50% to allow the compressor to remain in the system and then resume normal operation when the event that caused the surge is eliminated

Allen - Bradley Compact nonproprietary PLC
Allen Bradley Panelview 10" Color touch screen interface for easy operation and viewing is standard
All of the alarms, dated and timed stamped, will be logged on the Patriot Controller, accessible through the HMI to allow for simple troubleshooting and easy maintenance.

Typical 3-5% Power Savings can be achieved

Centac®, Ingersoll Rand®, Joy®, Cameron®, Atlas-Copco®, Clark-Isopac®, Worthington®, Elektronikon® and their affiliates are registered trademarks. Their use herein does not constitute any endorsements.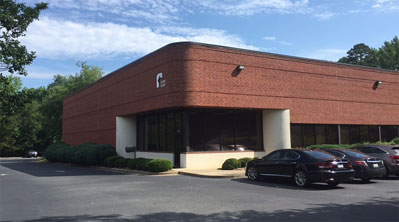 Distributor News - Fluid Flow Ztechnique Distributor North Carolina and Texas .
In 2015 we attracted a new Distributor in North Carolina and Texas states Fluid Flow headed by the charismatic and driven Drew Schwartz CEO .

Drew Schwartz came over to the UK in 2015 to meet with our Ztechnique team and look over our Ztechnique air end facility with his team Ed Borkey, Hunter Neblett and Scott Mitchell.

We must have impressed the guys just as much as we where impressed with Fluid Flow's vision for aftermarket oil free parts growth since we quickly agreed a territory deal and both signed on the dotted line for Fluid Flow to become our second North America Ztechnique distributor .

Sales have been healthy for Fluid Flow borne out by a recent visit from Mark Whalley BDM of Airtec Filtration Ltd in June 2016 who toured the facility and discussed sales opportunities with the FF team.

" Great things are happening right now for Fluid Flow with sales reports showing a healthy take up of our Ztechnique parts to a blue chip list of Fluid Flows customers.

Early indications are that the combination of available off the shelf key parts and a enthusiasm to build great customer relationships is paying off with several Z overhauls underway and more in the pipeline for 2016/17 period .

With a highly skilled sales and service team these guys are certainly winning orders from OEM accounts, well done guys ." Mark Whalley

Can we help your business grow aftermarket oil free parts business like Fluid Flow ?

If your interested in becoming a Ztechnique distributor contact me Mark Whalley and let's share information to understand your requirements...

Ztechnique driving down the cost of oil free air ..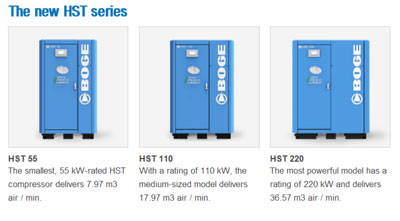 BOGE High Speed Turbo Technology
BOGE's high speed turbo technology represents a quantum leap in compressed air innovation! Thanks to a radical reduction in the number of parts and an ingenious construction principle - the air-bearing drive shaft guarantees particularly low-wear operation - we have achieved drastic improvements in efficiency and a simultaneous 30% reduction in overall costs!

Air Hire are BOGE Compressors UK Oil Free Distributors of this innovative new product

" We are extremely pleased to be oil free distributors of the BOGE HST product in the UK. Air Hire has always been keen to be involved with the latest developments in oil free compressor technology and this High Speed Turbo design shows the best of German engineering "
Mark Whalley BDM Air Hire & Ztechnique






Drax Power becomes a new Oil Free Hire Customer
Drax is a large coal-fired power station in North Yorkshire, England, an Emergency situation occurred a few weeks hence over a Bank Holiday weekend that required a rapid response to a critical situation...

Our Team of Hire Technicians quickly enabled a ZT Oil Free Atlas Copco hire compressor into operation and delivered the equipment over the weekend to stabilise the situation for the water treatment plant in record time..

An Atlas Copco ZT22 under Total Care with the OEM had broken down and parts and labour where not available to resolve the breakdown situation for this customer over this Bank Holiday weekend..

We treat new and old customers the same way In these situations mobilising our rapid response team to deal with the call whenever needed..

If your company needs Emergency air call Air Hire 24/7 and we will help you In an instant

Need support ? email us now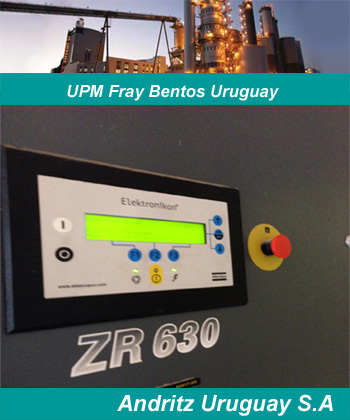 News Andritz Uruguay S.A Engages Air Hire Services
Air Hire (Part of the Airtec Filtration Group of companies) recently performed important shut down services for Andritz Uruguay S.A at the UPM Paper Mill in Uruguay.

Working under tight shutdown deadlines Air Hire recently serviced the UPM Paper Oil Free Atlas Copco Z and MD compressed air equipment as part of our ongoing service commitment to Andritz.

The compressor and dryer services where completed ahead of schedule.

Andritz have used our company's services during the 2013 shutdown and where impressed enough to re-engage our technicians to carry out the next level of compressor and dryer services for UPM a second time.

We are looking forward to expanding our services for Andritz in other parts of the World in 2015

Can we help your business drive down the cost of oil free compressed air ?

Contact our sales and support by calling 00 44 1744 733211 or email sales@airhire.co.uk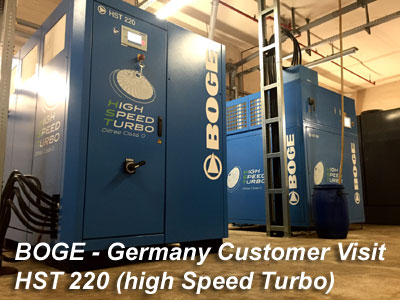 BOGE HST 220 Customer Visit June 2016 Germany
Having just returned from a fantastic visit to the BOGE Factory in Germany to witness the first customers enjoying the fantastic benefits of the new BOGE HST 220 High Speed Turbo compressor we are pleased to be distributors of the HST product.

"The existing German BOGE HST customer we visited where very open about the last 12 months experience with the HST compressor and the message that came across loud and clear was one of extremely enthusiastic customers that are not missing the oil that a traditional oil free screw or turbo compressor requires!!
Energy efficiency compared to the customer running an older Atlas Copco ZR5 was significantly up with 30% lower energy costs compared to prolonged load unload running of the ZR5 (based on customer data)
With lifetime ownership costs significantly lower than a dry screw and no planned overhaul period (or oils or oil filters) the future looks bright for this particular textile manufacturer lowering his compressed air ownership costs over 5 years and beyond."

The future of BOGE HST technology will bring about fundamental changes in service for customers with a real possibility that the sales engineer actually makes the service and repair visits given the vast reduction in spare parts required and with plug and play service exchange parts.
With the compressor communication advancing so quickly we will know well in advance of the customers plant if a breakdown occurs and can react accordingly. These changes and reductions in service providers lower staff overheads can be passed on to customers in lower service costs.

These really are ground-breaking advances for customer's and service providers alike


Mark Whalley BDM Air Hire Division

Do you want to know more about BOGE HST Technology ? contact me now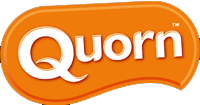 Quorn foods (Marlow Foods) is the latest addition to our service contract portfolio.
Quorn foods (Marlow Foods) is the latest addition to our service contract portfolio.

Quorn have a number of air compressors and operate two pressure systems on site for Quorn production.

The annual maintenance contract for the Atlas Copco ZH7000, ZT and ZTVSD turbo and screw compressors was recently awarded to Air Hire (Airtec Filtration Limited)

"We have had to prove ourselves worthy of this new service contract to Marlow Foods purchasing and it seems to have paid off with a three year agreement in place. Driving down the cost of oil free air maintenance is our goal for our customers and distributors alike" Mark Whalley BDM Air Hire UK Call 01744 733211 or email me


Quorn products are made from Mycoprotein. Mycoprotein is a nutritionally healthy protein source* that is meat free and naturally low in saturated fat and high in fibre.

"*. Mycoprotein is a nutritionally health protein source. Protein contributes to the growth in and maintenance of muscle mass."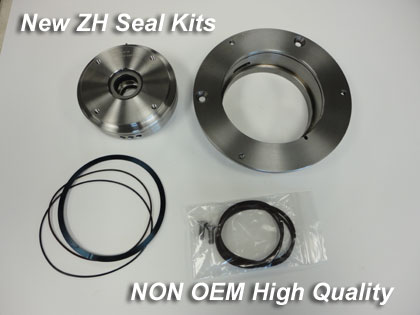 NEW ZH NON OEM Seal Kits Now Available for Atlas Copco Turbo compressors
Our developments in seal and bearing technology has developed an alternative seal and bearing arrangement for Atlas Copco ZH model compressors.

Please inquire about prices and range availability.

Contact Contact us now

Driving down the cost of oil free air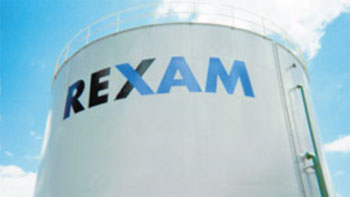 Rexam Mumbai Visit
Our Business Development Director Mark Whalley recently paid a courtesy visit to Rexam Mumbai.

Mark Whalley Said "You have to give your time to customers if you want to develop relationships and trust to attract new business. The visit to Rexam Mumbai was an extension to my India tour this March and was extremely enjoyable to meet the site engineers and provide a free inspection of the Atlas Copco ZR250 IMD units. We hope to develop a closer relationship with India as part of this initiative"

Rexam Mumbai
Taluka Panvel Maharashtra
Taloja Industrial Area District Raigad
Mumbai
410208
India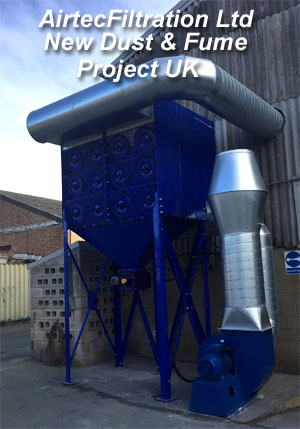 Airtec Filtration Ltd Dust & Fume products UK
Airtec Filtration Ltd Dust & Fume Division has continued to expand in 2015 with many new dust collectors installed across the UK and parts of Europe.

Our General Manager Karl Rixon said

" Our range of dust filters designed and assembled in St Helens Merseyside have enabled us to be more competitive than previously and has opened a lot of doors to large company's looking for cost effective prices and service. We continue to go from strength to strength in 2015 and look forward to an even more profitable 2016 with these innovative products."

Could we help your business solve your dust & fume problems ? Call 00 44 1744 733211 and ask for the AF sales team...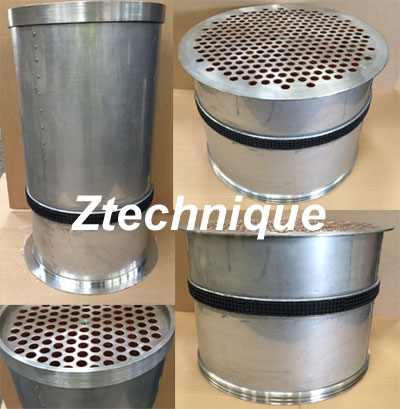 NON OEM Atlas Copco ZH6 replacement coolers 2016
Further expanding our range of oil free products we have added excellent quality aftermarket Atlas Copco ZH Turbo compressor replacement NON OEM coolers to our product range for 2016.

These coolers can save you huge amounts of cash when compared to the OEM prices and our warranty is comparable to the OEM package

We offer a fitting service if required.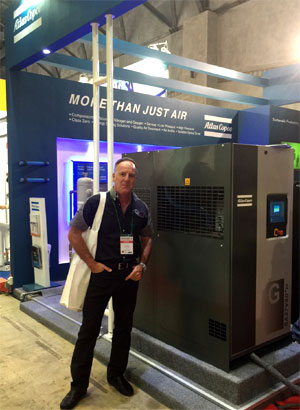 Our MD Mark Whalley Recently Visited the Indonesia Expo December 2015

I recently visited our Indonesian and Malaysia Ztechnique distributors and had the pleasure to visit the Jakarta Engineering Expo for a day during my busy schedule.

Here I am at the Atlas Copco Indonesia stand sharing some story's with the Atlas Copco team..

Maybe in 2016 we will consider a Ztechnique showcase stand alongside our country distributor

If you would like more information on Ztechnique products please contact me email me now click here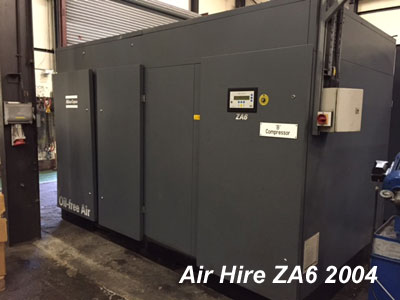 NEW Pre Owned Stock 2004 ZA6 units
We have 2 x pre owned Atlas Copco ZA6 units in pristine condition. For more information on pre owned Atlas Copco Oil Free air compressors please contact us for more information and prices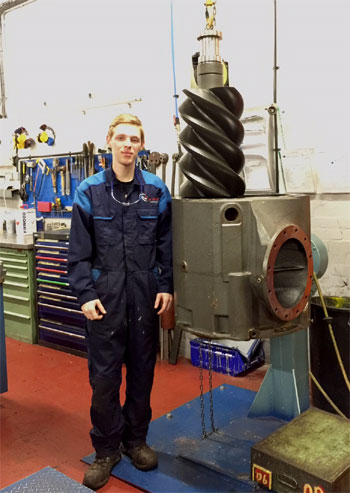 Leaps & Bounds
Our apprentices are developing skills in the air end shop faster than we can keep up with them
.
Bradley has made fantastic progress as well as Sam (not pictured) under the careful eye of Andrew Roberts our oil free air end shop leader..

"it's fantastic to see these young engineers develop a keen passion for this work and to be a part of their personal development and our future" Andrew Roberts commented.

Bradley is pictured reassembling an Atlas Copco Stage 6 element in our St Helens workshop.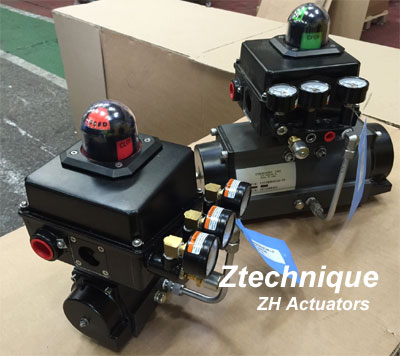 November News Aftermarket ZH Parts
Recently an existing customer of Air Hire in the Middle East region with Atlas Copco ZH Turbo compressors found it very difficult to obtain replacement actuators for his ZH6 compressor.

This was causing a costly downtime of the plant and reliability issues..

Air Hire & Ztechnique products came to the rescue with the items pictured from our USA Turbo partners in the form of the new NON OEM Actuators at less cost than the OEM

Our customer commented that it was fantastic to make a saving but more importantly was the fact that we could help resolve the supply issue far quicker than the quoted lead time of the OEM

Can we help you drive down the cost of oil free air ?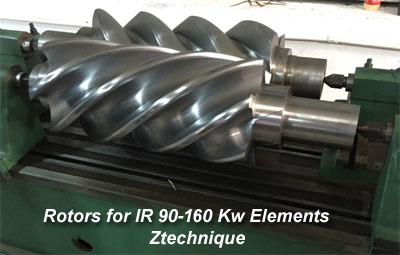 New Oil Lubricated Rotors from Ztechnique
We have now produced replacement rotors for IR 226 model.

The part numbers are as follows , Female 36787190, Male 36787182. All IR 90-160KW compressors use this rotor.

Please contact us for replacement rotor sets and we will give you a great deal 50% less than OEM rotor prices

We are also in the process of producing a range of GA rotors with 160Kw size available shortly
For more information contact us at 0044 1744 733211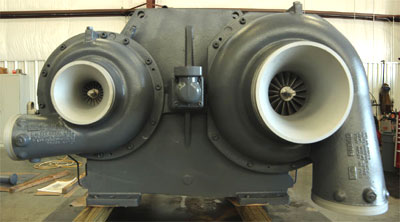 October 2015 Another ZH9000 Overhauled !
Together with our partner business for service and overhaul of the Atlas Copco ZH Turbo compressors another successful overhaul has been completed..

Undercutting the current supplier overhaul quotation by a significant amount this customer chose to use a NON OEM parts and service for the 48,000 hour overhaul which includes the cooler overhaul as part of the task.

If you employ Atlas Copco ZH Turbo compressors please consider using our company's services in the future and drive down the cost of oil free air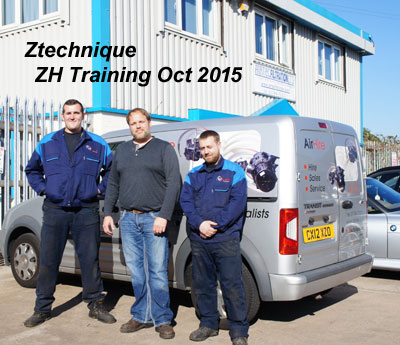 Atlas Copco ZH Training UK with our USA partners
Air Hire has continued its ZH Turbo compressor developments by inviting our USA partners to come over recently to continue our Atlas Copco ZH Turbo training developments with our service team

Our ZH training will continue throughout the next 12 months to enable our in house engineers to be fully capable of 4000 to 48,000 service and overhauls by providing not only NON OEM replacement spare parts that includes all rotating assemblies plus coolers, service kits , actuators etc. 95% of all the spare parts required to keep your ZH compressor running reliably

If you would like more information about our Turbo compressor spare parts capability please contact us on 00 44 1744 733211 or email us now

Driving down the cost of oil free air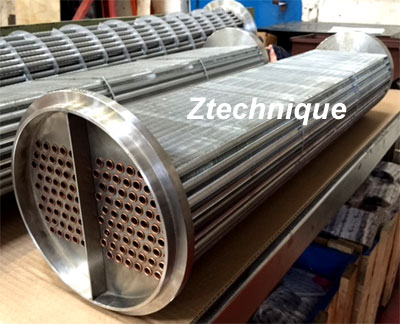 Replacement NON OEM Coolers for MD1800 Dryers
Check out the great quality of our replacement coolers for Atlas Copco MD1800 Air Dryers. Our warranty is 12 months on these products

The quality of these NON OEM Coolers has to be seen.

For all ZR ZT ZH ZA ZE NON OEM cooler sets please contact us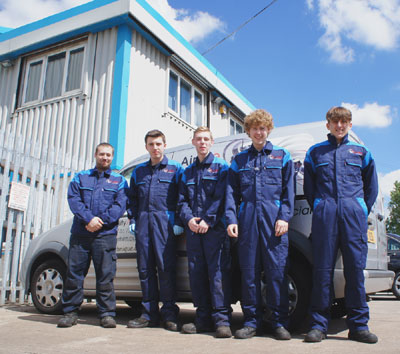 Air Hire & Ztechnique Apprentice Training Program
Our apprentice oil free training program has been growing steadily with 4 new recruits under the supervision of our Service Manager David Hatch seen to the left of the 4 apprentices in the image.

Our local St Helens college has provided us with excellent enthusiastic lads to work with from left to right Alex who is learning the in the field service operations from his mentor John Timpson

Next to Alex is Bradley who has turned out to be the star performer currently working under Andrew Roberts in our air end centre.

Next to Bradley is Sam our most recent apprentice Sam who has recently started his training program with us , last but not least Charlie who has been involved with our in the field technicians recently for Z oil free training.

"Its extremely important we provide not only trained service engineers for the future of the compressed air industry, but also grow our own engineers with the disciplines and capabilities we expect from our engineers in the field"

Mark Whalley BDM Airtec Filtration Limited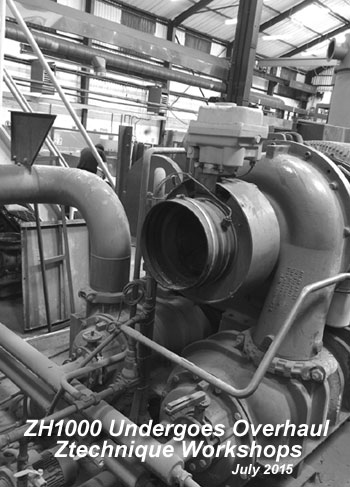 ZH10000 Overhaul July 2015 Ztechnique
Following our recent partnership to supply NON OEM ZH Turbo compressor parts we have secured our first Atlas Copco ZH compressor overhaul on a customer ZH10000 Turbo Compressor..

"This is a field which we know is relatively untapped in Europe & Asia to undertake independent service using our high quality ZH compressor alternative spare parts.
ZH service has mainly been dominated by the OEM direct teams and represents a great opportunity for both customer and our Ztechnique's aftermarket business to drive down the cost of oil free air for its customers and dealers alike. We are very excited to be providing this service now and in the future"

Said Mark Whalley Business Development Director.

If you are a user of Atlas Copco ZH compressed air equipment please contact us with your inquiry for service or parts and we can provide you with a quotation for comparison to the OEM.

We are confident that our metalic and consumable parts will be significantly less expensive than your paying now..

Telephone 00 44 1744 733211 or email us now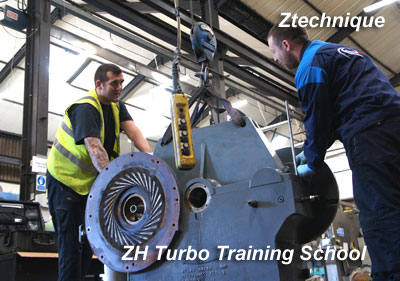 Atlas Copco ZH Turbo Overhauls - Services & Spare Parts
Our expanding Turbo services division for Atlas Copco ZH compressor overhauls enables your business to have the confidence to send in your parts or overhaul request to Ztechnique..

Our services include but not limited to:

We offer quality replacement parts and unsurpassed service for your Centrifugal Air Compressors. Minimizing your downtime is important to us because we know it is vital to your operation.

Ztechnique also provides complete overhauls onsite or in-house, remanufactured compressors and solutions to any control needs you may have, including new controls, retrofits or support for your existing controls.

Capability

Air/Oil Coolers
Complete Overhaul Kits
Controls
Filters
Internal Parts
Lubricants
Rotor Assemblies & Components
and many more!

Give us a call with any needs or support for your Atlas Copco ZH , Joy®, Centac®, or Worthington® Centrifugal Air Compressors. 00 44 1744 733211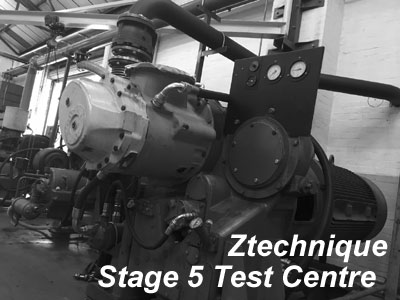 NEWS Ztechnique Stage 5 Elements under test
Our air end test centre just got extended to complete the required testing of our new Ztechnique Stage 5 elements that are now on the market from June 2015..

Every element we produce is thoroughly tested before sale to ensure its running parameters meet the required expectations for a Ztechnique element.

For more information on our Ztechnique elements please contact us and learn how your business can lower the cost of oil free air...

Telephone 00 44 1744 733211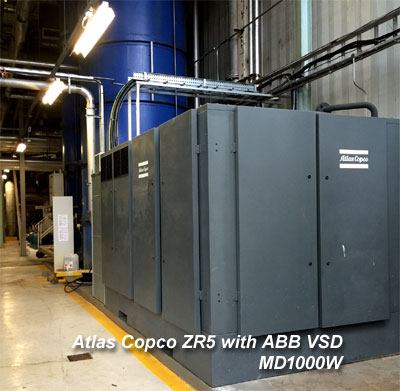 Refurbished Atlas Copco ZR5 315 kW MD1000W and ABB VSD Conversion In Bev Magor Gwent
In Bev Magor Gwent has recently had its additional refurbished Atlas Copco ZR5 oil free compressor and MD Dryer commissioned by our company.

The equipment has been retrofitted with an ABB VSD drive to enable a speed window between 600 and 1485 rpm to enable better control of the sites air pressure whilst enabling energy savings for the company.

" InBev is now an established service customer of our business and requested we quote against the OEM's for an additional VSD enabled compressor in 2014.

Our sales and technical team successfully put together an offer that ticked all the boxes for the InBev technical team at a fraction of the cost of purchasing new equipment from an OEM."

Could we help you reduce your oil free maintenance and equipment costs ?

Please call our sales team on 00 44 1744 733211 or email us now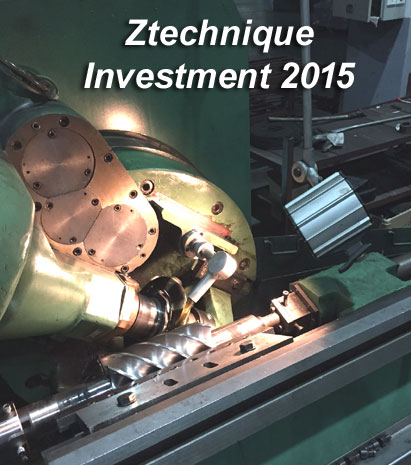 May 2015 NEW Investment in dedicated rotor cutting machine
Wednesday, 20 May 2015 PRESS RELEASE

Due to unprecedented levels of demand for Ztechnique elements and demands to produce other competitive rotors we have invested in our own dedicated rotor cutting machine..

Mark Whalley BDM (UK) and International Distributor Development

" Our business has gone through dramatic growth and this has put strain on our rotor supplier to meet the increasing demands on suppliers. The decision to invest in our own dedicated rotor cutting machine was an easy decision for the business particularly when you consider the ease at which we can meet our production demands and develop other rotors for other OEM brands. Our future in the alternative oil free element market is further secured with this purchase and reinforces our commitment to further investment in Ztechnique products."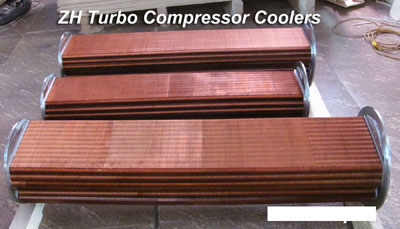 NON OEM Atlas Copco ZH7000 Stage coolers now available May 2015
Following on from our ZH service team initiative we have on offer a range of NON OEM ZH coolers for Atlas Copco Turbo compressors

The quality of these coolers is excellent and carry an 18 month warranty

Driving down the cost of oil free air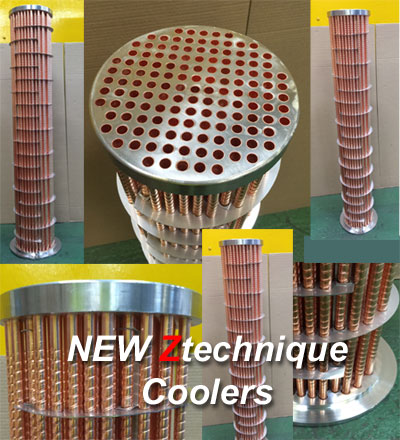 NEW Copper & Stainless Steel Cooler sets for ZR compressors
As an alternative to all stainless steel construction we have optional NON OEM replacement coolers for Intercooler and aftercooler for Atlas Copco ZR compressors.

Being significantly less expensive than the OEM product these coolers represent excellent value for money and have great longevity in service.

We can offer the complete range of ZR coolers to our Distributors and direct customers

Can we help you drive down the cost of oil free air service and parts ?

Please contact us now email for a price and delivery here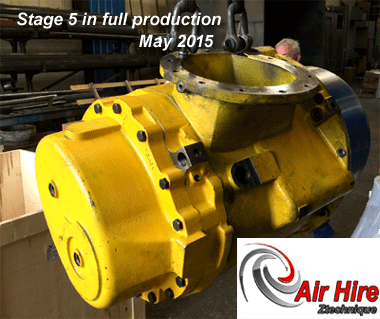 New Stage 5 Ztechnique Elements hit the market May 2015
Ztechnique completes its Stage 5 project with our new element entering full UK production from May 2015..

"The fulfilment of the project has meant we can offer new element combinations for 1/3/2/4/3/5 up to 400kw ZR compressors with new elements and ZR 500 to ZR 900 Kw with stage 4 new refurbished 6 size stages at far less than OEM offers without compromising on quality that Atlas Copco oil free compressors users expect " Mark Whalley BDM

The latest Stage 5 elements will be ready for shipping by the middle of June 2015

Image shows our stock of Stage 5 elements being un-loaded 18-05-2015 after arrival the process of stripping cleaning and assembly coating etc begins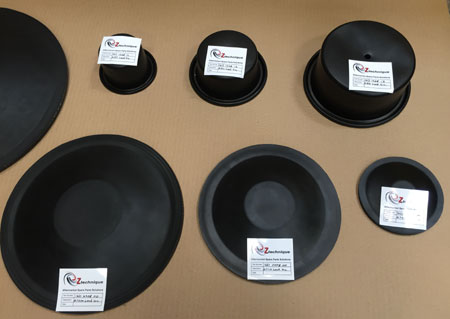 New NON OEM Ztechnique Diaphragms for Atlas Copco Z compressors
We have a complete range of NEW ZT ZR Diaphragm products available from Ztechnique.

The sizes of diaphragms cover from 22Kw to 900Kw and includes the VSD versions

Simply provide your OEM Part number and we will supply you with our NON OEM version with our 12 month warranty as standard

Great products and at great prices..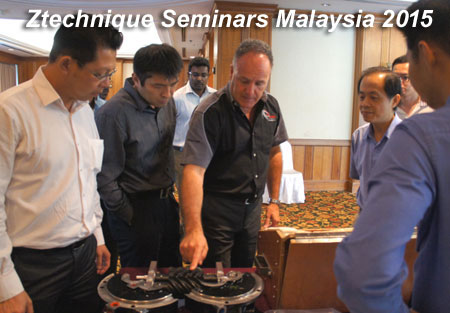 Ztechnique Customer Seminar 28th April 2015 Malaysia
Potential Ztechnique oil free spare parts and services customers turned out today in Malaysia for our first oil free seminar focused on attracting new business for our Malaysia Ztechnique master distributor I-Flow.

Generating huge interest was our new Ztechnique elements and service kits that could can save thousands of pounds for oil free users compared to OEM prices.

I-Flow's service has Atlas Copco trained engineers that have already installed Ztechnique elements in 2014 with great success.

Our next seminar is coming up in May in Penang and should also be well attended.
Many thanks to everyone that came today and we hope to be of service to you all.

Mark Whalley Business Development Director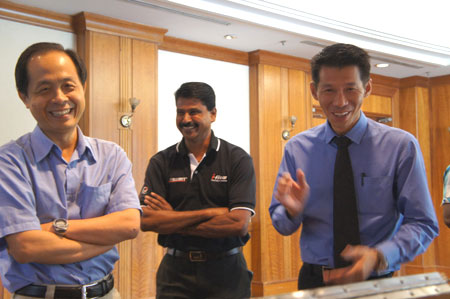 Ztechnique Malaysia Distributoir I-Flow
Business can be fun as you can see..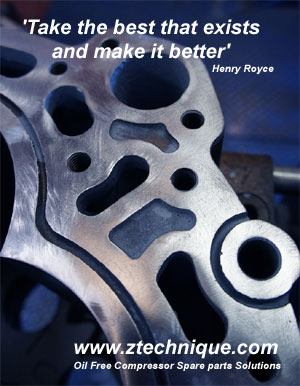 NEW Ztechnique Stage 5 Mk2 Elements for Atlas Copco 'Z' Compressors launch May 2015
Our NEW Ztechnique replacement NON Original Oil Free service stage 5 (element) hits the market in May 2015.

Following our success with stages 1,2,3,4 NEW Ztechnique elements that will seamlessly install on your Atlas Copco ZA ZR ZT ZE Fixed and VSD compressors has meant massive savings on OEM list prices for our customers around the World and ZERO warranty claims for our products further confirms our NEW Ztechnique elements are the right choice for Industry.

With numerous Blue Chip Customers enjoying the lower prices with long warranty's why would you choose anything else in today's environment where saving money without compromise on quality is paramount..

Our World Wide distributors will soon be receiving stock of the NEW Stage 5 Ztechnique element so you can see the quality for yourself if you want to visit our customer centres..

And if the competition say we don't have Class 0 conformity you can be sure that our company offer a FREE Post overhaul Quality air test to prove ZERO oil carry over of the Ztechnique products and 100% oil free air..

Driving down the cost of oil free air (again)
Contact us for more information and prices 00 44 1744 733211


Congratulations to our Malaysia Distributor
For the second Month running our Malaysia Distributor has delivered a stunning NEW Ztechnique Element order..

Beating off competition from the OEM on price, warranty and supply dates our Ztechnique products are about to be used on one of Malaysia's largest manufacturing Industry

We are extremely proud to announce our Malaysia Distributor has broken all previous records for NEW Ztechnique element sales for the second month running with promises of further large orders in the next 3 months for multiple elements, kits, coolers..

With Hotel seminars planned on the 28th April and KL and 5th May in Penang we hope to attract further Ztechnique orders from Malaysia Blue Chip customers.

We are looking forward to meeting some of Malaysia's finest business leaders at the Seminars
Mark Whalley Global Business Development Director (UK)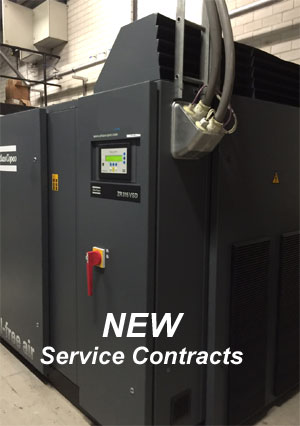 March 2015 NEW Service Contracts
What a great March for progress in our company and April is looking fantastic for our highest ever achievements in gaining new service contracts in the plastics, can and food industry with 3 new oil free customers shifting from the OEM to our company for preventative and Assured Air service agreements

New customers are hard to find and at least one of our new customers expressed that after 21 years with the OEM it was a difficult decision to switch allegiance but ultimately a better one for the business based on a more attractive offer from Air Hire lowering service costs significantly whilst increasing reliability and longevity of its existing compressors with Ztechnique products..

With this particular customer we have several other worldwide service agreements and supply of critical parts in Asia, Europe USA and Russia, truly a global partner for our business.

"Working with large oil free customers is our forte and where the biggest savings in Z compressor and MD ND dryer operating costs can be achieved together with our air audit and control system offering from Sarlin Balance for example.

Listening closely to the customers' needs is where we score time and time again and you don't need additions like GSM Devices like Smart Link to do that!! You just have to be diligent in service and listen to your customer !!."

Said Mark Whalley BDM

Can we help you drive down the cost of oil free compressed air ?

Contact us now for a free site survey and quotation 00 44 1744 733211 or email us email us now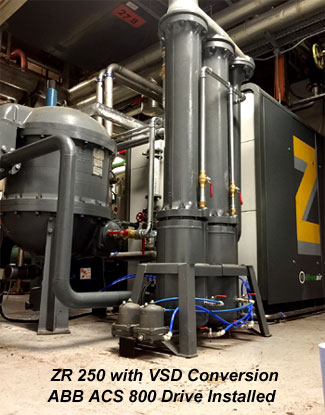 Air Hire supplys ZR250 MD1000W and HD Aftercooler with ER and VSD conversion
Air Hire have just installed a fully refurbished Atlas Copco ZR250 , MD1000W reconditioned air dryer and HD aftercooler to a large Chocolate manufacture that required not only Energy Recovery options but also a fixed speed conversion to VSD operation.

Air Hires project team sourced a well-priced pre owned ZR250 , converted it to Energy Recovery model to enable 85'c hot water from the compressor for a future ER project.

We also installed a ABB ACS 800 VSD drive and auxiliary oil pump motor cooling equipment to comfortably turn down the speed by 60% within the requirements of the plants demand.

The savings on not only the purchase of the compressor dryer aftercooler was significant to buying a new OEM package but the resulting power savings should prove to be fantastic when combined with Heat Recovery.

Could we help your business drive down the cost of oil free air ?

Call us now on 00 44 1744 733211

Projects undertaken around the World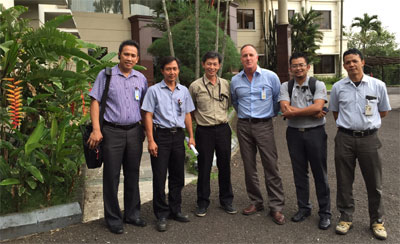 Indonesia Business New Customers
Our recent visit to Indonesia has developed into a new distributor and some great oil free Z and MD customers.

Our Business Development Director pictured here visited a number of large oil free Atlas Copco oil free Z compressor installations and listened to each plant manager's needs and issues with the compressors and dryers.

Valuable information indeed that subsequently has led to initiatives for our master distributors to offer great deals to these customers resulting in several Ztechnique new and refurbished element orders.

Visiting Jakarta, Sumatra, East, West Java Mark found the Indonesian people extremely welcoming and interested in reducing costs without compromise on quality.

"What a fantastic trip this was and probably the most interesting of my South East Asia trip as we got to meet some wild life in the Sumatra area of the country out in the jungle areas. Many of the plants we visited are self-sufficient when it comes to plant maintenance relying on internal skill sets fitting air ends and routine service parts. Our offer of Z training and support was well received by the various plant managers. It's the least we can do if we receive large parts orders !!" Said Mark Whalley BDM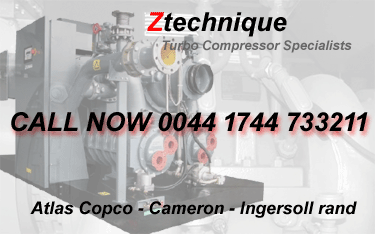 Ztechnique Launches Turbo Services April 2015
Following on from the success we have in Z oil free screw compressor service and spare parts we have expanded our services and parts capability to include service and repairs of Turbo compressors.

We are initially aiming at the service and repairs of Atlas Copco ZH compressors with a wide range of OEM and NON OEM parts available to the market.

With a network of International distributors we are able to cooperate to solve your problems wherever you may be with capability's on Cooper Cameron and Elliott and Samsung turbo compressors..

Our service technicians are drawn from the industry and confidently help you drive down the cost of oil free service.


In the event you need spare parts and our service engineers call us now on 0044 1744 73211
Hannover Fair 2015
Air Hire and Ztechnique products will be at the Hannover Messe Fair this April 2015 demonstrating our NEW & Refurbished NON OEM oil free aftermarket spare parts for Atlas Copco oil free compressors

Our NON OEM compressor and dryer products are able to save oil free screw compressor and dryer users significant amounts of money combined with a 18 month guarantee of longevity of our spare parts in service

Look out for us at the Hannover Messe exhibition...

(We thought we would make it easier for our German friends to read !!)

Air Vermietung und Ztechnique Produkte werden auf der Hannover Messe Messe im April 2015 zeigt unsere neue und renovierte Nicht OEM ölfreie Aftermarket Ersatzteile für Atlas Copco ölfreie Kompressoren

Unsere NON OEM Kompressor und Trockner Produkte sind in der Lage, ölfreie Schraubenverdichter und Trockner Anwender erhebliche Mengen an Geld in Verbindung mit einem 18 Monate Garantie der Langlebigkeit unserer Ersatzteile in Dienst speichern

Achten Sie auf uns auf der Hannover Messe ...
( dachte, ich würde es einfacher für Sie zu lesen machen !!)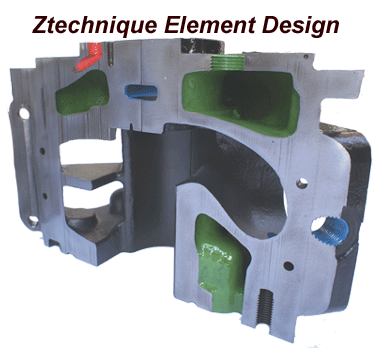 New Marketing tools for Distributors
We have recently produced a number of new marketing tools for our distributors which can be used for Z training and Customer visits.

Having the ability to show potential customers the innder workings of our Ztechnique replacement elements is essential to customer confidence in our quality products.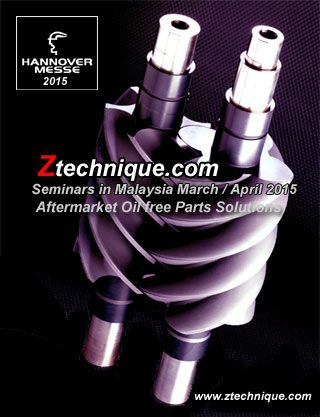 Seminars in Malaysia 2015
Our seminars will introduce both distributors and customers alike the benefits of using Ztechnique aftermarket oil free compressor and dryer parts that can often save as much as 50% over OEM prices without compromise on quality.

For more Information email us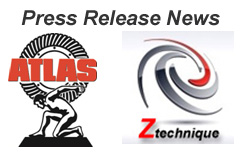 ATLAS MACHINE and Z TECHNIQUE ANNOUNCE NORTH AMERICAN PARTNERSHIP…Companies Collaborate to Provide Atlas Copco non-OEM element solutions
Louisville, Kentucky and St Helens Merseyside, United Kingdom Atlas Machine and Supply, Inc. and Z Technique announced today a partnership to provide non-OEM compressor elements and aftermarket spare parts to North American industries relying on oil-free, rotary screw air systems in their manufacturing process. The collaboration also establishes Atlas Machine and Supply as Z Technique's Master Distributor for all non-OEM parts and products, including high and low pressure elements for oil-free, rotary screw air compressors.

The partnership provides industries that rely on oil-free compressors with a cost-saving alternative to purchasing replacement oil-free parts, including oil-free elements, through original equipment manufacturers (OEM). Additional savings can be expected from quicker response time and having stock in the United States.

Atlas Machine established as National Distribution Center



In addition to focusing on providing non-OEM replacement elements, Atlas Machine and Supply has been named as the company's national Master Distributor, and as such is stocking a full line of oil-free compressor parts frequently needed by industries in the U.S. to keep their oil-free compressors operational.

"Our ultimate goal with any partnership is to drive down the cost of your oil free air," said Mark Whalley, Business Development Director at Z Technique. "Atlas Machine and Supply's current compressed air capabilities, partnered with our oil-free product offering and expertise specifically with the 'Z' and 'MD' compressed air equipment, make this merger a great option for any North American customer."

For more information about the Z Technique non-OEM elements and other related oil-free parts and services being provided through Atlas Machine and Supply, email oilfree@atlasmachine.com or call U.S. toll-free 1-855-GO ATLAS.

Note: Atlas Machine and Supply, Inc. is an independent supplier of compressor replacement parts and is not affiliated with Atlas Copco. Original equipment manufacturer (OEM) names are the trademarks of each manufacturer. On products marked "equivalent" or "replacement," OEM names and part numbers are for reference only.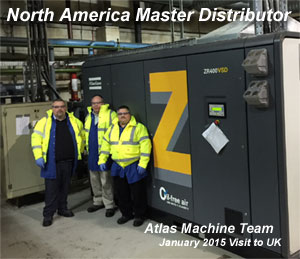 UK Visit Atlas Machine Managers
We recently had the pleasure of the Atlas Machine management visit the UK and show the guys some of our key customer accounts.

Dave Sullivan CEO pictured to the left, Andy Poplin and Troy Burden both in sales are key to the North America Master Distributor partnership winning new orders for our business.

A great few days was enjoyed between the Air Hire managers and Atlas Machine undergoing training and some bonding time.

We look forward to working closely with the AM team in the coming months and years..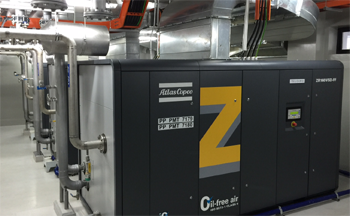 Successful Distributor Partnership in Malaysia January 2015
Following a successful business mission in December 2014 to meet with several of Malaysia's 'Z' compressor users (courtesy of our country distributor ) we have successfully won several new overhaul tasks since our visit with Blue Chip company's we can be proud of serving.

Many customer who are disillusioned with the OEM service & prices expressed a keen interest in Ztechnique New elements with notably the benefits Ztechnique parts provided , one way shipping , element performance figures , extended warranty (5 yrs) and quick efficient service from our country partners.

Following on from the first Ztechnique overhaul we have swiftly won yet another two ZR overhauls in quick succession !

Well done guys and ladies a great effort so far and more to come.

Driving down the cost of oil free air yet again !!

Could we help your business save money when overhauls or element failures occur ?

Contact us now or call 00 44 1744 733211 and we can introduce you to our country partners for a FREE site survey and quotation..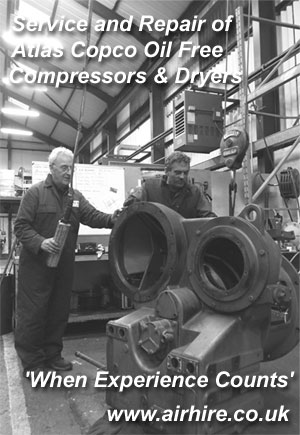 The old guys often are the best !
Congratulations to our older members of the team who are our backbone of the workshop team overhauling Atlas Copco compresors and dryers in our St Helens workshops.

We appreciate the Engineers dedication to work and efforts in ensuring a great job is carried out each week.

A big thank you for working so much overtime lately guys and getting out the orders for refurbished ZR compressors

Mark Whalley BDM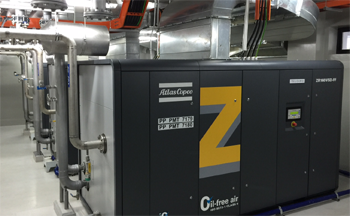 New Service Contract Customers once again in December 2014 for Air Hire
Air Hire once again secures new service business with a major technology manufacture after this particular customer required to save in excess of 30% of his maintenance costs. Rising costs for oil free compressor maintenance from his existing provider has culminated in this customer seeking lower cost alternatives for his service of his 3 x ZR160 VSD FF units.

Air Hire has successfully yet again gained a 60 month total care service agreement with overhauls planned in 2015 on one of the ZR compressors as part of our service contract offer.

We are able to save Z oil free users significant costs savings without compromise on NON OEM service and parts quality and guarantee our air ends will surpass 40,000 hours run under normal operating conditions.

Can we help your business drive down the cost of oil free air ?

Call or now 0044 1744 733211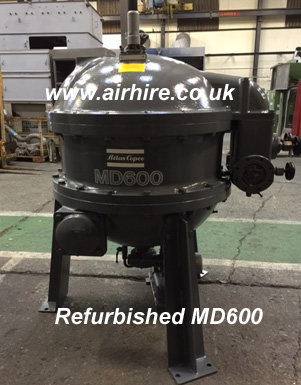 New MD Dryer Order News!
Customers are increasingly likely to place orders for refurbished equipment when comparing prices of OEM products and availability.

We received an order for a Atlas Copco MD600 yesterday 29-10-14

The customer required a fast turnaround and lower price to the OEM. To this end we have stock MD dryers ready for sale from our Merseyside operations centre and its delivery is 03-11-14.

With a full overhaul and refurbished drum installed the MD600 seen here represents fantastic value when compared to new..

We have also been offered 3 year maintenance contract for the rest of this UK customer site as a thank you for helping them expedite the order so quickly and lower the current service providers high prices for service and repairs.

Could we help your business drive down the cost of oil free air ?

Call us now on 00 44 1744 733211





Apprentice Training Program Air Hire and Ztechnique
Our apprentice training program for mechanical engineers has attracted some very bright new students eager to forge a life in mechanical engineering.

Pictured here is our new apprentice Bradley assembling a Ztechnique element.

" Its important we attract students from our local college with an aptitude for engineering studies to continue the knowledge we have acquired ourselves over the years in the field of oil free compressed air service and parts manufacture."

Mark Whalley Business Development Director 24-10-14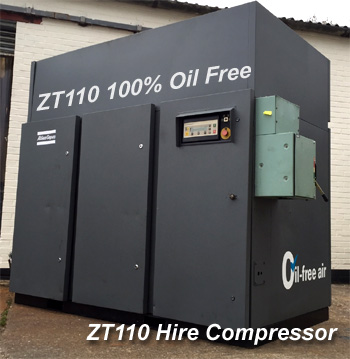 New Additions to our 100% Oil Free Atlas Copco ZT110 Hire Fleet
Refurbished Oil Free ZT Air Cooled Atlas Copco compressors join our hire fleet

We have added a number of rental compressors all with Ztechnique elements installed.

If you require a quotation for a short or long term oil free air cooled hire compresssor look no further we have a wide selection of equipment.

Call our hire desk now 0044 1744 733211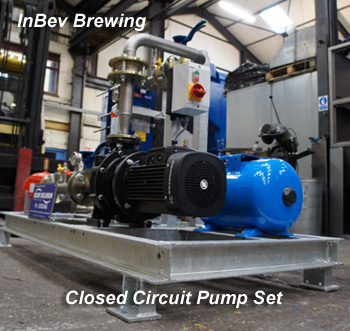 Closed Circuit Cooling Solution for InBev Preston
When InBev Preston developed a cooling water quality issue Air Hire came forward with a suitable low cost solution to replacing the entire cooling water system.

On InBev's ZR compressor Internal cooler fouling and corrosion of the alloy water pipes on the Atlas Copco ZR132 VSD was constantly re-occurring.

The solution we offered was to design a small closed circuit heat exchanger system before the compressor and dryer offering a clean water system around the equipment. This has resulted in a 100% improvement in reliability and water quality around the compressed air equipment.

"Replacing the compressors oil, intercooller and aftercooler was not an option as the problem lay with the sites poor quality water used on several other process as well as compressors and dryers, thinking out of the box has allowed us to save InBev thousands of pounds over the lifetime of the equipment by cleaning up the cooling water to this equipment" Mark Whalley

Could Air Hire help you with your sites compressed air equipment solutions.

You can call us now on 00 44 1744 733211 or email us now

Driving down the cost of oil free compressed air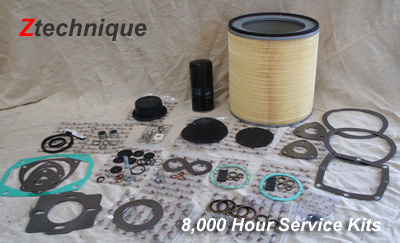 New 4,000 8,000 16,000 & 40,000 Hour Ztechnique service kits
Our range of NON OEM service kits for Atlas Copco's range of ZA ZR ZT ZE compressors just got larger with the Introduction of ztechnique products

Driving down the cost of oil free service is our aim to ensure customers get value for money side by side with a quality Ztechnique product.

Covering most sizes of new and older ZA ZR ZT ZE and MD equipment all you need to do ius provide your compressor data plate details (or part numbers) and we will do the rest to ensure a quick solution to your requirements.

For more information on all our NON OEM kits for Atlas Copco Z compressors and MD dryers contact us now on 00 44 1744 733211 or email us now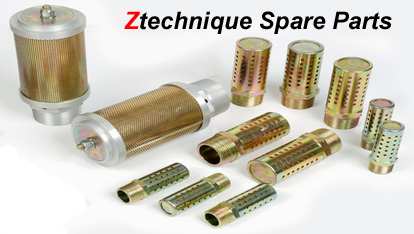 Compressor Mufflers (includes NON OEM ZA ZR ZE ZT Range)
Please inquire about our silencers (mufflers) fgor various compressor makes.

We have the full range of NON OEM Silencers for the Atlas Copco Z compressor range

Please Inquire with compressor model, serial number and year of manufacture
Ztechnique & Air Hire Expands its Spare Parts offer
With the recent high demand for Aftermarket Spare Parts NON OEM we are expanding our web site to include more NON OEM Atlas Copco , Comp Air, Ingersoll Rand spare parts.

We are also looking to recruit a further technical sales person preferably with past experience in the oil free and oil lubricated sales field.

For spare parts inquiry's please contact us click here now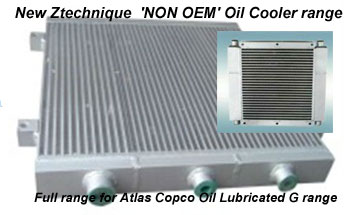 Ztechnique Spare Parts for 'G' Oil Lubricated Atlas Copco Compressors
Ztechnique expands its G series oil lubricated NON OEM spare parts range with the full range of NON OEM Atlas Copco Oil, Intercoolers and aftercooler range.

Driving down the cost of compressed air parts and service is our goal without compromise on quality.

For all your compressed air parts call us on 0044 1744 733211 or email us now us now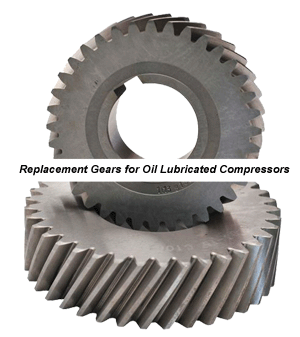 NON OEM GA GR Atlas Copco gear sets great quality
Contact us with your OEM part number and we can offer you our NON OEM alternative spare parts at lower prices than the Orginal Equipment supplier

Atlas Copco GA GR gear sets (NON OEM) can be supplied

Contact us email us now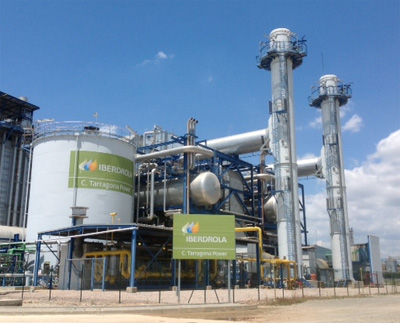 Iberdrola Operación y Mantenimiento In Tarragona becomes Air Hire International Service Customer August 2014
Air. Hire has successfully achieved a long term compressor & dryer maintenance contract with Iberdrola Operación y Mantenimiento for its Power plant after competing with the OEM for the service and overhaul work over the last 12 months.

Mark Whalley Managing Director Air Hire Division

" Achieving this premium customer in Spain has been a major success for our business. Driving down the cost of oil free service whilst providing a quality product is forefront in our minds when approaching large clients like Iberdrola who like any business requires to reduce its costs for maintenance on compressed air "

Could we help you lower your Oil Free Service costs ?
Please contact us at email us now for more Information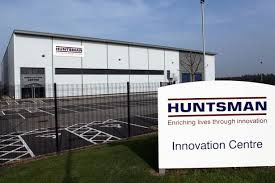 Huntsman a new Oil Free Z customer for Air Hire Sept 2014 NEWS
Air Hire (Airtec Filtration Limited) have successfully gained a large new oil free compressor customer Huntsman Greatham site in the North East of the UK.

With 6 x ZR compressors crucial to the operations at Huntsman Air Hire was selected as a service provider of service and overhauls on the Atlas Copco ZR compressors used at the site.

Our Ztechnique products have been used extensively during the overhaul of the first ZR4 air compressor on site..

Can we help your company' Drive down the cost of oil free air' ?

Contact us now send and email now to our service team click here




New Ztechnique Parts now online Z Air Filters
Ztechnique expands its product range with a new range of products you can discover at our web sites www.airhire.co.uk and www.ztechnique.com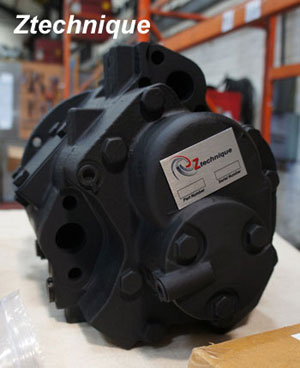 Stage one Ztechnique proves to be a best seller..
Our stage one replacement oil free NON original element for use on Atlas Copco ZR ZA ZT ZE compressors is proving to be our best seller yet with our highest ever sales in June 2014.

Our sales team led by Rob Winstanley and Mila Krizanovska have been extremely successful targeting new International customers with our 'driving down the cost of oil free air' campaign and are set to reach even greater heights in the next quarter.

Well done team..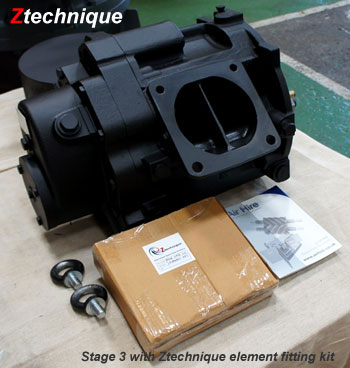 NEW Ztechnique Stage 3 Elements and Fitting KIt NON OEM
Soon to be ready for shipping our NEW stage 3 and stage 1 Ztechnique replacement oil free elements for Atlas Copco oil free ZR ZA ZT ZE air compressors. These elements can be installed on fixed speed and VSD variants of the Atlas Copco Z product.

With up to five years warranty our prices are going to be hard to beat.

With already over 45,000 hours covered in the field* our product has the longevity to be a cost effective alternative to the OEM product..

'Driving down the cost of oil free air'

2009 first Installed *
Can Pack becomes Air Hire & Ztechnique Oil Free Products Customer
Air Hire News July 2014

Air Hire was recently asked to quote oil free NON OEM spare parts to Can Pack SA.

Our NON OEM Ztechnique Oil Free elements and MD dryer drum replacements beat off OEM competition on price and speed of service.

Whilst Can Pack normally install many of the spare parts they purchase from Air Hire themselves on this occasion our engineers where able to quickly install the new ztechnique elements in record time allowing the customer to maintain seamless production.

Can we help your business lower the cost of oil free air

Contact us contact Air Hire Service click here
Interview by Business Boost with Mark Whalley June 2014
Ztechnique Interview Mark Whalley discussion regarding NON OEM Atlas Copco alternative elements and parts from Mark Whalley on Vimeo.



Mark speaks about his vision for the future growth of Air Hire and Ztechnique brand NON OEM oil free products for Atlas Copco Z and MD equipment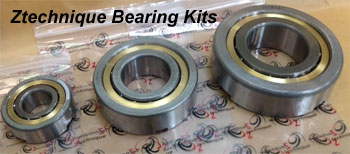 New Ztechnique Element Bearing Kits for OEM and NON OEM Z element stages
Ztechnique has developed NON OEM Thrust bearing sets for replacement on Atlas Copco service stages 1,2,3,4,5 and 6 sizes.

For more information about air end rebuilds and new ztechnique products contact us here Email us now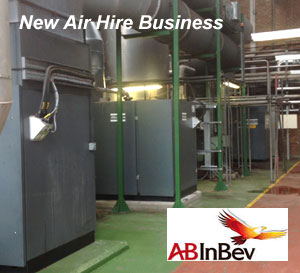 New Major Service Agreement with In Bev Brewery UK
Air Hire (Part of Airtec Filtration Ltd ) successfully beat of competition from its UK competitors at the beginning of 2014 to secure a significant service contract agreement with the prestigious UK brewery's of AB InBev with the award for service and parts supply for not just one of the groups brewery's but two brewery's based at Preston and Magor Gwent.

As well as supplying service support to the plant we have also been successful in supplying modern Atlas Copco replacement equipment to the plant in the form of Oil Free ZR and MD compressed air equipment to replace older ZR compressors that where operating inefficiently

Our goal in 2014 is to work closely with AB InBev to reduce energy costs for the sites with the integration of sophisticated compressor control devices to ensure we generate site air pressure at the lowest acceptable pressure level and deliver targeted energy savings for the brewery.

Several compressors required planned overhauls at the onset of 2014 (ZR ZT compressors)
Air Hire with Ztechnique products where able to reduce the previous overhaul prices of these compressors whilst offering a warranty period better than OEM standard warranty levels.

We hope to expand our services and parts supply to other AB Inbev sites around the World to reduce maintenance costs for InBev , we have already started this process in Brazil with our ztechnique distributor.. Watch this space in 2014 -2015

Would your company benefit from a FREE site survey by Air Hire ? if so please take some time to call our service team Tel: 00 44 1744 733211

(don't forget we operate an International service team)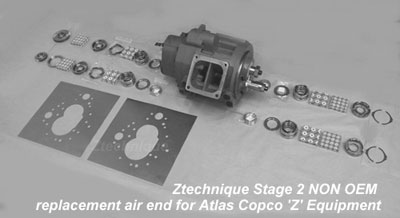 New Ztechnique Elements ready for shipping to our WW Dealers April 2014
The all new ztechnique elements at attractive prices compared to OEM products are ready to be ordered. Stage 2 and 4 Mk2 style are ready for shipping with substantial quantity's held in stock at our UK distribution centre.
These elements will fit seamlessly to Atlas Copco Z range of compressors and have great warranty packages available.
If your business is interested in our supply only or supply and fit service please make contact with our team.

To order please contact us on 00 44 1744 733211

'Driving down the cost of oil free compressed air'

Mark Whalley 18-03-2014

Note Image shows Stage 2 element before final assembly and rotor coating...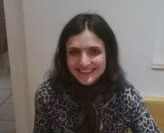 New Appointment Mila Krizanovska Spare Parts Sales Coordinator
We are pleased to Introduce Mila Krizanovska to our company.

Mila has the responsibility for assisting our spare parts quotation team for Atlas Copco NON OEM products quotations.

Mila has numerous European language capabilities and has also studied European Law at the Pavol Jozef Safarik University in Slovak Republic and is a highly motivated Individual.

Mila will be able to assist our overseas inquiry's to speak in the native language if possible.

We are very pleased to be adding Mila to our team and wish her all the best in the future with our company..

Mark Whalley MD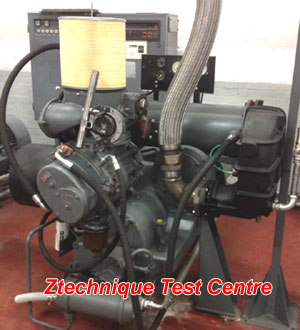 NEW Z Technique Testing Centre goes live January 2014
Our New Ztechnique testing centre is operational

As each customer air end arrives we test the condition of the customer supplied product.

After elements have been assembled they are also tested for performance, vibration, temperature etc before a TEST Cert is produced to accompany the element wherever it may be supplied in the World.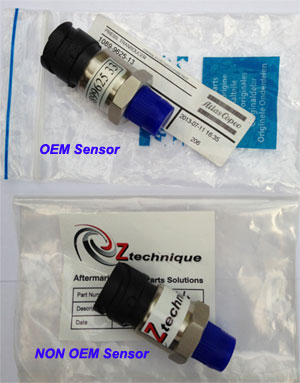 Do alternative service providers create or destroy value for the compressed air user.?
We read an Interesting article written by a member of Atlas Copco's management team about NON OEM spare parts and Independent Oil Free service providers posted on the Atlas Copco web site 02-05-2013

They say all advertising is good advertising and we are complimented that Atlas Copco should be so concerned about Independent oil free service providers like Air Hire www.airhire.co.uk and www.ztechnique.com as we continue to grow to one of the largest Independent NON OEM spare parts providers In the World saving our customers and average of 35% on service and spare parts supply.

We have provided oil free Z service since our first company's Inception in 1987 and have serviced thousands of blue chip company's with parts and service over many years with high reliability and dedication to service quality.

Air Hire now reaches 25 country's with strategic distributors in each offering our NON OEM alternative spare parts backed up with comparable if not better warranty's than the OEM provide.

Our Ztechnique products are growing constantly as we re invest 25% of our profit each year in new product development and specifically NEW NON OEM air ends for Atlas Copco's Z range of equipment. Three sizes of our current element stages perform so well that through Independent testing the output of our new NON OEM service stages FAD is marginally better than OEM claims.

Our coating, bearings and seals are proving to deliver high longevity (over 5+ years in use) with all new components in our NEW air ends.

Providing you take some form of service agreement with our company or with one of our global distributors warranty on metallic parts (air ends) can be extended to 5 years.

From an oil cooler to a complete short block for the entire range of Atlas Copco Z and MD range of equipment we can deliver the goods you need at a very competitive price with great warranty's and support.

The Image here is shows the OEM sensor and our alternative NON OEM sensor I think you will agree a remarkable similarity. The big difference is the cost ours is 50% less cost than the OEM sensor and it does the same job and has the same warranty

Are you Interested in our business providing you with an alternative quotation for parts and service with an overhaul saving of 35% on OEM prices for Oil Free service.

Call 00 44 1744 733211 or Contact us now click here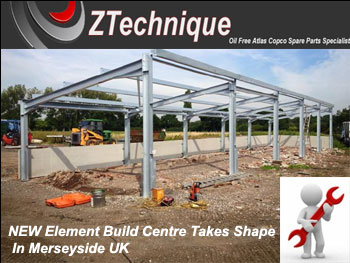 NEW Buildings for Ztechnique Element Centre takes shape Sept 2013
NEW Ztechnique Air End Centre Takes Shape In UK
24-09-2013 Our New Ztechnique UK Based Air End centre has begun taking shape in Merseyside UK to expand our already successful Ztechnique NEW NON OEM Atlas Copco replacement element stages.

" Given the volume of Inquiries we get each day from around the World , both from direct customers and Ztechnique licensed product distributors, Its been essential to plan ahead for the growth we expect to continue in to 2014 for our NON OEM replacement parts for Atlas Copco Oil Free ZR ZT ZA ZE compressors. We look forward to the grand opening in December 2013. Our product range is growing constantly and we need more space for the new air end centre and test facility's. We are also adding ISO 8573-1 CLASS 0 (2010). in the due course of time to add further customer confidence in our products."

Mark Whalley Business Development Director

Can we help you reduce your maintenance costs on Atlas Copco Oil Free Z equipment ? email us now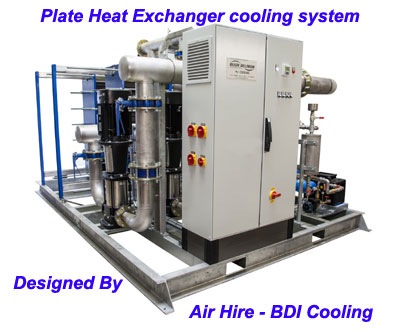 Bespoke Cooling Design to Enable reduced Compressor Running Costs
Air Hire and BDI Cooling recently collaborated to design a plate heat exchanger system to enable our Air Hire Middle East customer to reduce their compressor running costs

Due to frequent ZR and MD compressor & MD dryer water coolers blocking with open water tower debris and causing frequent cooler cleaning and even replacement cooler costs when the contamination became to hard to remove.

The design of the system cleans up the water circulating the compressors and dryers (closed circuit) to an extent where only 60 month cooler extractions will be necessary In the future

The customer will see a massive reduction in operating costs using the new system.

For example an OEM Intercooler for an Atlas Copco ZR400 is around 52,000 Euro (2013 OEM list prices) and this particular customer had previously under the last service provider exchanged a number of Intercoolers , aftercoolers and oil coolers with costs over 5 years running in to hundreds of thousands of Euro costs across 5 x ZR compressors and 5 x MD dryers.

The typical cost of the cooling system Air Hire and BDI cooling have designed is a one off cost of 97,000 euro plus Installation and delivery.

Could we help your company reduce your running costs of compressed air ?

Contact our Engineering team on either 000 44 1744 733211 or email us now click here for a FREE site audit in UK or Europe.

Air Hire Innovates to reduce your compressed air costs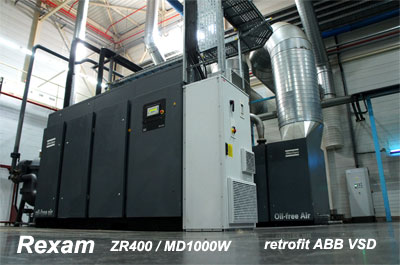 Rexam buys Refurbished ZR400 with MD1000W with Retrofit VSD drive installed
We recently Installed the package in the picture in Rexam Beverage Can plant

The equipment is a pre owned Atlas Copco ZR400 we fully refurbished and Atlas Copco MD1000W air dryer we also fully refurbished.

Combined with the above equipment we also Installed a retro fit ABB ACS 800 Industrial VSD (Variable Speed Drive) that can potentially save the plant upwards of £70,000 pounds per annum in Energy savings and a fast payback on Investment...

The success of this project for Rexam means huge potential to convert a number of Rexam sites across Europe and the Middle East that also employ standard ZR equipment and convert to VSD drive operation

Could your plant benefit from this type of conversion ?

Call us now for more Information and a FREE evaluation report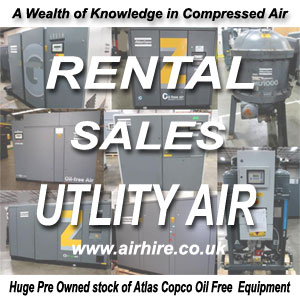 STAR Brochure launch
Air Hire has been in the refurbished Z G and MD compressor dryer business for a long time , from 1987 in fact.

Previously our competitors dismissed used equipment as a viable alternative to new equipment but now it seems the major manufacturers also are offering pre owned equipment. quite a compliment !

Our STAR (It stands for second time around) equipment has always been offered at great prices and now with retrofit VSD drives you could be getting great payback periods on good used oil free and oil flooded equipment from Air Hire and the Ztechnique brand

Refurbished to a high standard and upgraded with modern electronics and panels a great deal

If you would like to take a look at our brochure and list of STAR equipment available now just email us us and we will do the rest

You can also Utility Air any of the pre owned equipment we offer for sale..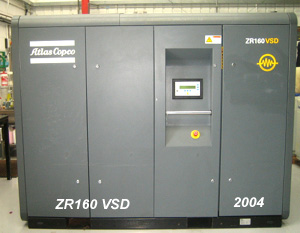 Go Green

and recover your compressors energy
Using a relatively inexpensive conversion process your modern Atlas Copco ZR compressor can be converted to supply 90'c water for various uses around your plant., effectivly using your energy twice.

This isn't a new concept , the energy recovery concept for ZR compressors has been around a long time since ZR3,4,5,6 machines where established on the market many years hence. What has made conversion easier is the new design of the ZR110 to ZR900 for example allowing much lower cost conversion to Energy Recovery. from as low as a few thousand pounds conversion to your modern ZR equipment you could be easily recovering wasted energy..

As a result, the total energy recovered as hot water amounts up to 80-105% of the electrical input energy, depending on the individual site conditions. In most industrial conditions it will be 90 to 95%. This feature sets the ZR oil-free screw compressor with energy recovery apart from any other compressor technology

The heat gathered can be easily pushed through a plate heat exchanger with some other simple additions to provide how water for as an example at between 70 to 90'c

Showers
Space Heating
Steam Boilers
Process Water
Heat Driven Chillers
etc

Read More about Energy Recovery from Air Hire click here





New products from Air Hire and Ztechnique brand Feb 2013
A complete range of NEW NON OEM NRV Check valves for ZA ZR ZT ZE oil free Atlas Copco compressors

You can order this part on line by clicking here

This NEWS is from May 2013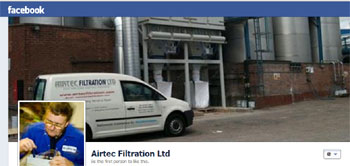 Airtec Filtration Ltd Facebook page NEW
Airtec Filtration Ltd has a new Facebook web page to promote our Dust & Fume control business and our Air Hire - Ztechnique.com products. click to view click here to go to Facebook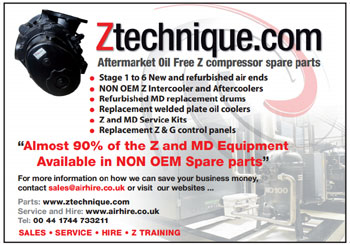 Sept/ October Mechanical Engineering Magazine
Shortly to be appearing in a half page advertisement in a well known Mechanical Enginnering publication.. Air Hire will be publishing this advertisement to push our UK sales of spare parts and services..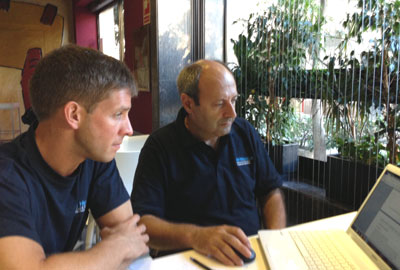 Air Hire -Spain developments
Our Air Hire team in Spain has made significant progress in securing new contracts on Atlas Copco Z oil free sites.

With plans for a new offices in Portugal to support our products.

If you would like to become a distributor of Air Hire and Ztechnique NON OEM spare parts please contact us e-mail Mark Whalley now


Pushing Overhauls past 40,000 Hours !! No way read on....
Some OEM's are now telling their service contract Total Care customers it's OK to push out major overhauls longer than the previous de-rigour 40,000 hour lifetime...

Our experiences over many years is that this is false economy and in the end the customer suffers...

Why ?

When rotor contact and bearing failure begins it can vastly increase the amount of energy a customer wastes due to inefficient oil free air ends not producing the designed output...
Costly production stoppages due to lack of planned overhauls is also a factor to consider when breakdowns occur.

Suddenly after many years promoting the replacement at 40,000 hours on Z elements the goal posts seemed to have moved but who benefits ?

If your Z equipment is on a TR contract for 10 years and because of the 'sudden or un foreseen failure ' contract wording you don't have new service stages (elements) installed you could be suffering from low output and a real danger that the air end will suddenly fail taking out your drive train and sometimes the drive motor...

Plus what are you paying for ? PM services and 'risk' money you could have used more productively and taken a mechanical insurance policy to cover the same risk at a fraction of the cost !

Bring in to play some OEM's new 'obsolescence' clauses in contracts and you the customer are the loser in many ways when your eventually told your equipment is no longer able to be repaired through lack of 'obsolete' spare parts or poor overall condition.

Example

We recently stripped down a ZR5 compressor the current service provider had given a clean bill of health in its final year of Total Care contract. It came as no surprise to find both air ends where in poor condition and about to experience a bearing failure that could have destroyed the drive train.

This particular customer had been 'advised' his air ends (60,000 hours run) where OK towards the end of his 10 year service agreement!.

During the course of the TR agreement this customer had basic PM services and virtually no significant breakdowns of any real cost to the service provider.

Who's the winner in this scenario ?

If your compressor is nearing the end of its 5 or 10 year TR (Total Responsibility) contract take up our FREE forensic SPM and data recording offer and find out for sure before your agreement ends what needs to be done and if the service provider should pay for the restoration..

For more Information contact us email us for a FREE Health Check








Elektronikon Testing Kits
We are now producing for our dealers TEST equipment for Elektronikon panel fault finding.

These are for dealers only currently.

If you require more information about these and other repair products please contact us email us now
Worn Rotors after 60,000 hours ZR5
Little of no Teflon Coating left
Standby By Seizure risk (rusting)
Low output
Risk of failure to drive train

Henkel Has recentley become a Air Hire customer
We are pleased to have become an oil free service provider to HENKEL.

Henkel invited Air Hire to examine its plants where predominantly Atlas Copco Z and G equipment is utilised.

Our Investigation of the ZR & GA compressors found maintenance problems that could have been resolved easily, however the existing service provider missed several overheating issues perhaps due to lack of experience and caused production stoppages after a major service.

Furthermore when we removed the coolers we found heavy contamination inside the Intercooler and aftercooler that had built up sufficient lime scale to cause significant cooling problems.

Our combination of lower prices and quickly finding the source of the overheating problems was sufficient to make Henkel switch service providers in this region.

We have since expanded our discussions with this client to look at Control systems and Heat Recovery of the ZR equipment.

Could your Oil Free compressed air equipment benefit from a FREE forensic examination by our team of experts...if the answer is yes then email us now now


Air Products Choose Air Hire yet again..
Air Products PLC recently asked Air Hire to quote a large overhaul in Ireland beating OEM prices yet again...

Our price, delivery and labour costs where significantly better than the OEM and resulted in a large order and service agreement being placed with our company making what is traditionally a quiet August in to a very busy month !

Our thanks go to the Air Products management for taking the chance for Air Hire to prove our consistent approach and dedication to detail is what wins orders...

For more information on how we can help your business save money without quality compromise call us now 00 44 1744 733211


News on the Air ....
Large UK Car Plant places order for plus £200,000 for pre owned Atlas Copco ZR900 VSD complete with Energy Recovery to enable boiler feed water energy savings to provide and excellent pay back on capital outlay.

The project has also used our high efficency NEW Ztechnique Elements as part of the refurbishement process.

As a turnkey project Air Hire has proven yet again the massive cost savings of choosing our business over the OEM's

Could we be helping your business reach new levels of savings on new and refurbished equipment and overhauls. Call us now if we can help you



Payment By Credit Cards Enabled 20-08-2012
From August 2012 we have enabled off line and on line credit card facilitys for an increasing demand to be able to pay for goods from dealers and customers...

Simply call our office 00 44 1744 733211 and arrange your card payment for goods.
Check out our NEW Colour of NEW Elements
All our New Ztechnique.com elements will now ship in Black with our corporate logo for Ztechnique products from 01-06-2012

These are a pair of stage 3 & 5 Mk2 we recently sold to an overseas client.

We have stages 1 to 6 available from Ztechnique.com

learn more about Ztechnique.com click here
Our NEW

Z

Technique.com Test Centre
Our NEW Z element testing centre is now completed allowing all ZR, ZT, ZE, ZA air ends to be tested before supply to our customers and Z dealers worldwide.

"This is a significant Improvement for our 'Z' air end rebuilds team to the previous test facility's allowing rapid testing and SPM monitoring during all refurbished air end testing. Stages 1 to 6 can be tested using our new test equipment" M C Whalley

All air ends are supplied with a TEST performance cert from our company after testing is complete and warrnty certs.

Coming soon Interactive video of the elements under test for SPM, Pressure, Tempreature online video camera

01-06-12 Update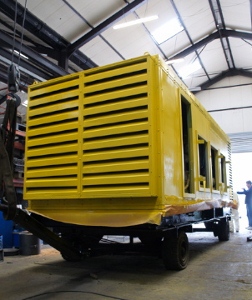 Our TGA Diesel Mobile has been refurbished
May 2012 our latest addition to our fleet of Oil Free Diesel hire compressors.

The TGA Compair machine has been completely refurbished and is seen here receiving its final coat of paint before re-entering service in our fleet. With 1500 cfm oil free capacity it's a great addition to our growing fleet of oil free Diesel compressors.

For more Information on our Diesel and Electric Oil Free equipment hire please contact us email our hire desk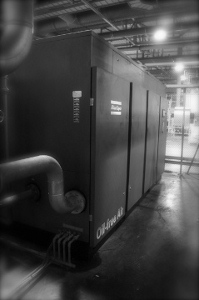 Rexam Beverage Can ZR6 Overhauls 2011 - 2012
One of our premium service customers is Rexam Beverage Can.

Rexam own over 130 items of Oil Free Z Atlas Copco equipment and have service agreements for a proportion of there ZR ZE ZA & MD equipment placed on contract with Air Hire (part of Airtec Filtration Ltd)

Our lower than OEM service prices and dedication to quality of service has won our company business over 2010 to 2012 throughout Europe and beyond

Could we help your business save ££££ of pounds with our range of NON OEM Z and MD products ?

Please contact us email us and we can assess your service and spare parts requirements for FREE
New Ztechnique Elements Now for sale


To inquire about our ztechnique branded products email us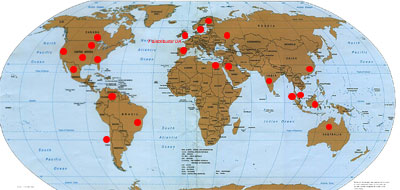 Distributor map
Our 2012 distributor map is growing

If you think your compressed air business has a place in our team then contact us.

Free Z and MD training offered to country partners*
*Conditions apply for free training

Larger Map of world distributor network Air Hire
Management Appointment for Ex IR Employee March 2012
Due to a huge Increase in our export sales of NON OEM Elements we have recently employed a very bright young engineer Rob Winstanley (EX Ingersoll Rand) to head up our service of the Air Hire Division. Rob will start with our business 1st April 2012 in the role of Service Coordinator.

Well done Rob we look forward to you being on our team

Other Appointments are still open...

Our NEW and Refurbished Export sales of Elements and coolers (NON OEM of course !) have massively increased over the last six months and we are looking for an experienced manager to with an aptitude in logistics and parts sales.

The ideal candidate will be willing to visit our growing number of WW dealers and coordinate sales and marketing initiatives alongside our existing sales team.

Past experience in the oil free Z business would be an advantage in this position. Previously having worked for an OEM would also be an advantage.

Please submit your CV to email me for the attention of Mike Redmond Director posted 02-28-2012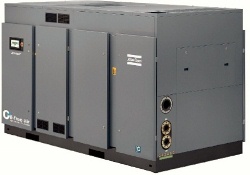 ZH10000-5 Turbo for sale less than 20,000 hours run
We have 2 x ZH1000-5 units for sale with less than 20,000 hours run each. Being Ex Tate & Lyle sugar (UK) the compressors where maintained to a high standard under service contract with the OEM prior to the de comission.

We are happy to take Inquirys from dealers and end users alike for this equipment

For more information on these compressors and a for sale price please contact us 00 44 (0) 1744 733211 e-mail
NEW Ztechnique Elements are now available
Our all new stage 1 to 6 Mk2 style NON OEM Elements can now be ordered from us at www.ztechnique.com

Click here now

You must be registered as a Ztechnique dealer before we can provide you with a user name and password to access the on-line ordering web site.


Air Hire wins large Z overhaul contract In North East Car Plant
Air Hire December 2011 News !

With tough competition from the OEM Air Hire has successfully won 4 x ZR overhauls to be carried out over the December period of 2011.

Our previous high standards of workmanship have brought this car plants engineering team to our company for the second time in 2011.

We look forward to a successful partnership with this large car manufacturer in 2012 on further oil free projects.

Could your company benefit from cost savings ? on Z Oil free and MD service. If so call click here to email us




Rexam Spain becomes long term Air Hire Customer
Rexam Tarragona became one of our larger maintenance contracts in 2011.

Disillusioned with the poor standards of the outgoing service providers , Rexam engaged our compressed air consultancy services to examine the ZR ZE and MD equipment and report on the condition of the plant.

From the detailed report provided it was clear that numerous items of the ZE ZR and MD equipment required urgent attention to maintain performance standards of the air compressors and dew point of the dryers.

Having carried out a number of overhauls and repairs in the 'intensive care' period of the contract takeover the equipment on site is now once again functioning to a high standard. Combined with our air energy audit data we regularly inform the client of the performance of his compressed air equipment and strive to improve efficiency of the compressed air system.

Could your company benefit from our Compressed Air Audit Inspection ? email us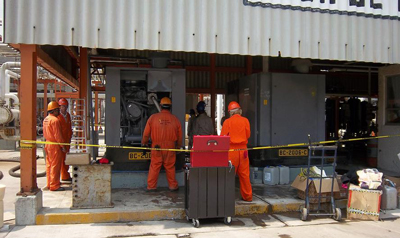 Pemex Oil In Mexico Installs First NON OEM Elements from Air Hire
01-09-11 Great News the first NON OEM Z elements from Air Hire are installed at Pemex Oil by our Mexican Oil Free Z Distributor ands are running AOK.

Our Distirbutor in Mexico is to be congratulated for winning a tough battle with the OEM for this work with a potential for over 60 'Z' compressors in the Pemex Business requiring overhaul.

Although lower price was a factor the warranty promise from our business was also a deep consideration of Pemex

Well done Global Instant Air for a great job

If your business is interested in buying elements from our company with a WW fitting service please contactr e-mail us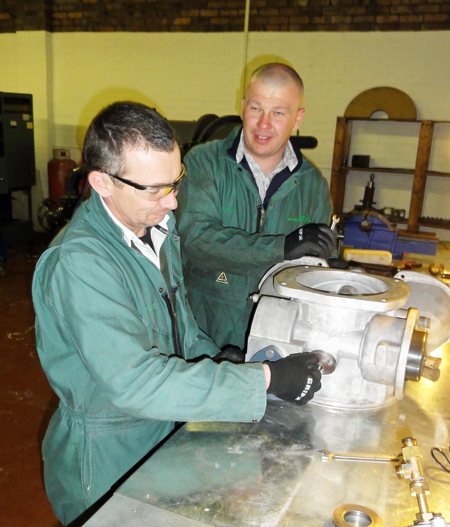 Air Hire Z Training NEWS Air Products send Engineers to our Z centre
Our training facility has seen some Important Blue Chip clients lately that Includes Air Products, Nissan Cars etc

Here is the Air Products Engineers overhauling a ZR4 Unloader head.

The savings Air Products can make on using the OEM are massive by understanding the overhaul process. The supply of our NON OEM parts further reduces the cost of owning Z and MD equipment.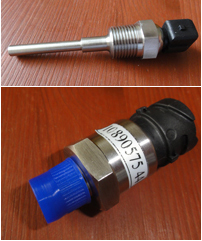 NEW Products April 2011 NON OEM Sensors for Atlas Copco Compressors...
Adding to our growing list of NON OEM products for ZR ZT ZA ZE GA MD etc we have NON OEM tempreature and pressure sensors from our company.

Please provide the sensor part number you require and we will do the rest.

Fantastic savings on OEM prices yet again.

E-mail us with your sensor part number click here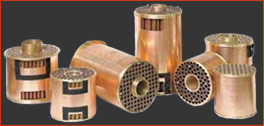 New Coolers from Air Hire for Centac massive savings on OEM prices 28-03-11
Take a look at our latest offering NON OEM Centac coolers excellent materials and quality.
Coolers available ex stock.





Nissan UK becomes Air Hire contract customer
One of the largest ZR compressor users in the UK and Ireland recently decided to save themselves thousands of pounds on overhauls and service of there compressed air equipment.

With 17 Atlas Copco Oil free ZR oil free air compressors on site and the need to save money like any business in the UK right now, Nissan UK decided to change service providers in January 2011 to Air Hire.

"Our objectives from the onset were to work with Nissan to drive costs down to an acceptable level not only from a service initiative but from an energy objective. Our partners Air Energy Management have worked closely with Air Hire to provide a year long initiative to assist the Nissan Engineers to be as pro active as possible in 2011, working to a common aim save money on energy and service sosts!"

Mark C Whalley MD

Want to fine out more how we did that ? e-mail us now click here

Rexam UK Signs up as Air Hire Customer
After lengthy negotiations Rexam has agreed to employ Air Hire as its preferred service provider for the Atlas Copco Z and MD equipment in January 2011. With a number of ZR, ZE, ZA, ZR VSD and MD equipment we offered a significantly lower cost of maintenance to Rexam.

"Our service prices and commitment to providing a real alternative to the OEM service has achieved this customers business through the dedication of our sales and service team to reduce the cost of service without compromising quality" Mark Whalley MD Air Hire.

Are you an oil free ZR ZT ZA ZE user ? why not call or e-mail us and arrange an informal discussion with us and find out if we can reduce your compressed air costs. e-mail us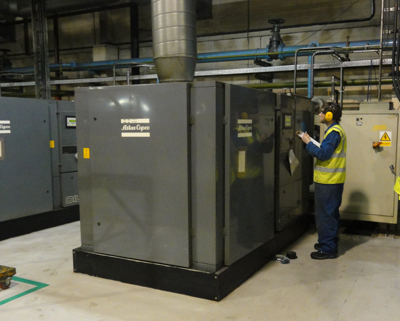 What sets us apart ?
In today's tough economic times the cost of compressed air is one of the most significant costs any plant engineer can and should drive down.

Air Hire does not rely on OEM parts to undertake its overhauls and services, unlike many of the NON OEM service providers.

Our partners in Italy have honed a NON OEM product over 30 years to a highly competitive and reliable product that is unique in its design and reliability.

Our Global customers are vast with business as far as South America, Russia, USA, Canada, Poland, Czech Republic, South Africa, Finland, Sweden, Malaysia, etc the list is substantial.

Unique? Yes we are unique with a Oil Free alternative Z and MD product unrivalled.

We look forward to speaking to you.... e-mail us



Cadbury Bournville Midlands 31-01-11
Picture this 10.30am New Years Eve..

A customer needs you....

You literally have 1 hour to stop the possibility of a factory's production ceasing...

Who do you call... Air Hire

Our service team swung in to action New Years Eve to enable the chocolate to still flow at Cadburys in the Midlands. Our PTS 916 was loaded to transport and dispatched to the Cadbury factory within hours of the call to hire them a 1500 CFM 100% oil free Diesel compressor.

When the chocolate hits the fan who will you call?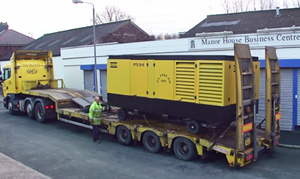 Loaded and ready our PTS 916 31-01-11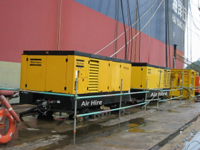 Air Hire wins sizeable long term Hire Contract
Just as soon as we enable our PTS 916 hire fleet we have won an annual hire contract to supply 100% oil Free air to a large blue chip UK company.

"Our hire rates ended up far more competitive than the OEM's hire rates in the end and our 24 hour inclusive support services really gave us the edge to win this contract" said Mark Whalley Sales Director of Air Hire UK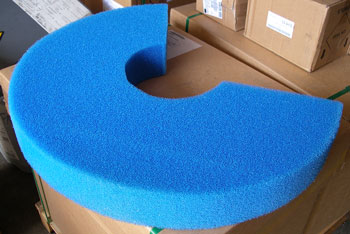 MD Demister Pads added to our growing MD ZR NON OEM Parts Range 08-08-10
NON OEM Demister Pads using same materials as OEM you can now order from us August News 2010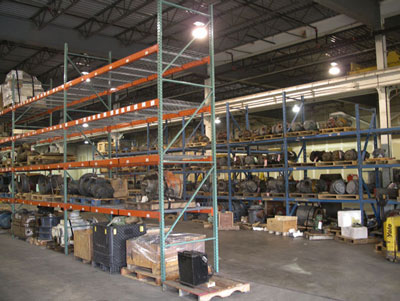 Core Stock Larger than ever ! May 2010
To make sure we dont let you down our Z core stock is growing every week. Take a look at the shelves of ZR and ZT cores.


NEWS 01-11-09
NEWS 01-11-09 We are now offering Service Stages 1, 2 & 3 Mk1 and Mk2 air ends with new screws options so they will give you a standard performance once again.

ZT22 & ZT30 High Pressure air ends are supplied NEW now 01-11-09 Low Pressure ZT22 & ZT30 continue to be refurbished as normal.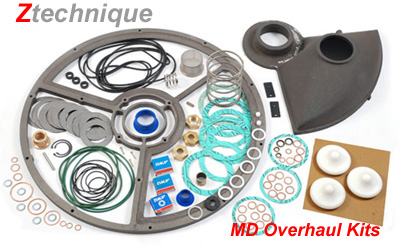 24-02-10 NEW ZR - MD Service Kits available
From 201-02-10 we are able to supply a wide range of NON OEM service kist for MD ZT ZR overhaul and services

Just contact us and we can send you our PDF copy of the available kits from Air Hire.
Download PDF of available kits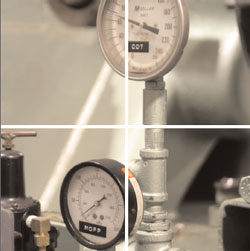 Need a Compressor ? But haven't got the time to Source it ?
Let us take the stress out of sourcing your next compressed air purchase and find the best priced equipment for you.

With our International sourcing expertise we can often locate you a better deal than simply choosing your regular UK supplier.

For more information e-mail us and we will get right back to you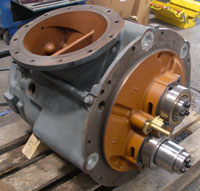 Need a Pre Owned Low hours cost effective element replacement ?
Check out our range of pre owned low hours service stages now available 04-05-2010 from Air Hire.

We have a fitting service for all our pre owned elements and can offer extended warrantys linked to our Total Care service maintenance offers

See products click here