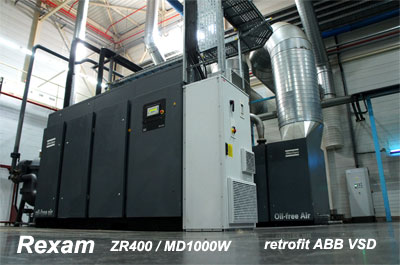 Rexam buys Refurbished ZR400 with MD1000W with Retrofit VSD drive installed.
We recently Installed the package in the picture in Rexam Beverage Can plant

The equipment is a pre owned Atlas Copco ZR400 we fully refurbished and Atlas Copco MD1000W air dryer we also fully refurbished.

Combined with the above equipment we also Installed a retro fit ABB ACS 800 Industrial VSD (Variable Speed Drive) that can potentially save the plant upwards of £70,000 pounds per annum in Energy savings and a fast payback on Investment...

The success of this project for Rexam means huge potential to convert a number of Rexam sites across Europe and the Middle East that also employ standard ZR equipment and convert to VSD drive operation

Could your plant benefit from this type of conversion ?

Call us now for more Information and a FREE evaluation report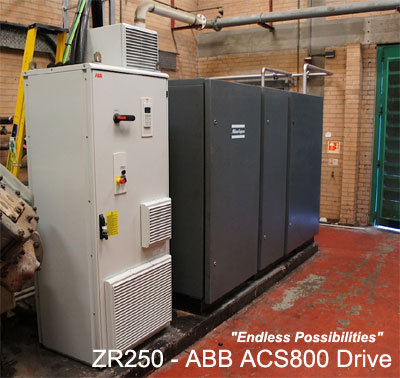 Our most recent Installed ZR250 with ABB ACS800 VSD Drive
This particular customer had a limited budget for plant improvements and that's where Air Hire came in with flying colours.

Converting the existing equipment a standard 2002 Atlas Copco ZR250 to VSD fitted the bill for this client and within a tight budget. New equipment simply wasn't an option

Using the latest technology from ABB we have successfully converted a number of ZR ZA ZT GA compressors right across Europe in the last few years to VSD drives resulting in thousands of pounds energy savings for our clients.

If you require more information how we can improve your existing plants compressed air equipment please contact us on 000 44 1744 733211 or email email our experts

VSD (Variable Speed Drive) Conversions


Induction motors run efficiently when they are running flat out fully loaded.

When a traditionally controlled on line / off line rotary screw compressor is operating on line it's making air at 100% load and the motor works efficiently. However once the system pressure has been reached the machine will un load and operate off line.

In this mode the compressor will not make any air but will still consume power. The motor turns the rotors in the air end and keeps the machine lubricated. In this mode the compressor will consume up to 25% of full load power to produce nothing.

As the system pressure falls the compressor will eventually load and make air again and the cycle is repeated.

A variable frequency drive eliminates the costs of unloaded operation and over pressurisation. Why supply air at 7 barg if you only need it at 6.5barg. For every 1 bar reduction in system pressure you can save 7.5% power.

The VFD does this by speeding up or slowing down the motor to maintain a target pressure in the main plant receiver. So, the compressor will then only consume the power required to meet the air demand and you'll generally save 25% power. The more unloaded power cost you have the more you'll save.

VFD's can be fitted on any motor where this is a variable load. Pumps & Fans for example.

Payback Periods: 3 to 18 months

Installations: 4 to 300 KW

2 Year Warranty

100% Capital Allowance Qualifying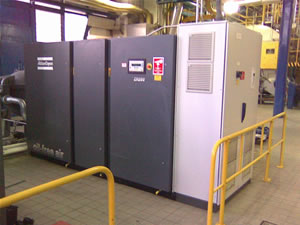 VSD Conversions and Servicing of Industrial Air Compressors
Air Hire.co.uk!! are leading providers in servicing, repair and installation of compressed air systems to industry.

We are experts in the retrofit of VSD (variable speed drive) systems to both oil-free and oil-flooded compressors. This includes models from all the major manufacturers.

The installation of VSD systems can give significant benefits in energy saving without the need to replace existing compressors.

Why save energy?
Reducing the amount of energy you use is one of the fastest and most effective ways to save your business money. Air compressors can account for between 15 - 25% of the total energy use within a business. By reducing energy costs you will be making a positive contribution towards climate change as well as your profit margin.

In addition to the immediate cost saving benefits of an approved VSD conversion there are substantial incentives available through Government supported schemes to reduce energy consumption and your carbon footprint. Through energy saving initiatives it is also possible to reduce the climate change levy you are paying on every KW of electricity your company uses. www.cclevy.com

Our VSD conversions are approved by The Carbon Trust and listed on the Governments Energy Technology List (ETL). This may qualify your company to claim enhanced capital allowances and interest free loans. www.carbontrust.co.uk/solutions

At Air Hire.co.uk - our team of dedicated and experienced service engineers and sales specialists are committed to delivering complete customer satisfaction. We will only supply the very best products available and guarantee to offer the very highest level of service and technical support.

Air Hire.co.uk have successfully converted many fixed speed compressors to variable speed drive machines for companies such as Maxell and Floform. We have references available from many of our blue chip companies.

Our unique 'try before you buy' offer
We have loan ABB variable speed drive units up to 400KW always available so that you can 'try before you buy'. This portable unit comes fully installed which means it can be easily integrated into the compressor control circuit. Prove to yourself the savings that can be achieved before any investment is made by your company. This service is provided completely free of charge by Air Hire.co.uk

One of our specialists would be pleased to visit your company and conduct a complete audit of your air compressor systems and produce a detailed report with our recommendations on where energy savings can be made. There is no cost for this service but the potential savings to your company could be substantial

Contact us now for more information e-mail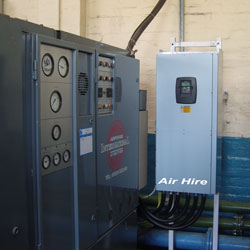 Atlas Copco ZR4 with retrofit VSD drive
Here's a Atlas Copco ZR4 with a VSD drive fitted. the machine is quite old but was easily adapted to modern VSD technology.
Airtec Filtration & AirHire.co.uk Oil Free & Oil Flooded Compressor Spares